The power to get things done

For regular users, the power supply is hidden at the back of the computer and – once the mains lead has been attached – never gets a mention again. For enthusiasts, the power supply is Avatar's Tree of Souls – Vitraya Ramunong – that connects everything together and provides the life force needed for the magic to work.
Here, we hit a quandary. We all know that having a massive power supply that's likely to continue to deliver the juice we need forever – but at the same time we don't want the massive bill that might come with a large, inefficient power supply.
This year, we looked at a value PSU that would work for the majority of builds, but then we also opened up the category completely – to see which beast is the king of the PSU jungle – a PSU for all seasons and all record breaking attempts.
Best PSU Overall
As you'll see when we discuss our Value PSU of the Year in a second, you can build an awesome single CPU, single GPU system into a rig with a PSU in the 600 watt range. But that's not what the Best Overall PSU category is about. to use a car analogy, people looking at this category with serious intent either want to cruise down a motorway at 70mph in a 6 litre Bentley – completely assured that ample power is there whenever you touch the accelerator – or you are a serious racer and will be putting tremendous pressure on a power plant that simply cannot waiver as you try for a variety of records.
This year's winner comes in luxurious packaging that claims to deliver 1,200 watts. In our extreme test scenario, it comfortably delivered 1,300 watts before protection circuits kicked in at 1,350w. In regular use, with a 35 degree Celsius ambient temperature in the background, the Seasonic 1200w Platinum power supply doesn't even turn its fans on when delivering 600 watts. Until very late in 2014, the only PSU that provided any kind of serious competition in this category was the Corsair AX1500i, but that weighs in around the £360 mark – whereas the Seasonic is 'only' £215.
KitGuru's choice for Best Overall Power Supply Unit for 2014 is the Seasonic 1200w Platinum. Read the review HERE.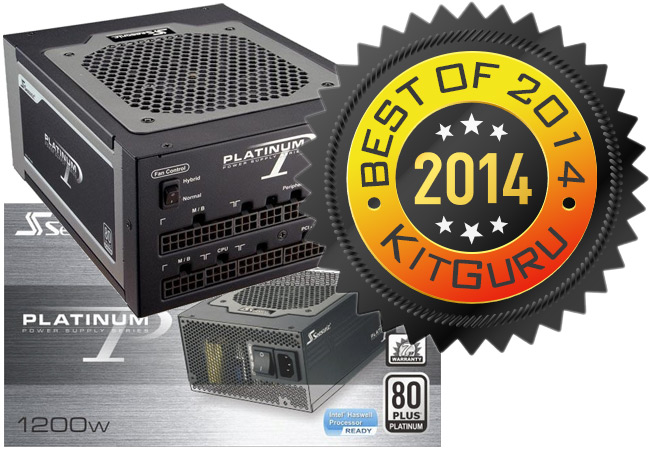 Best Value PSU
Hold your nose cos he comes the cold water. There are literally dozens of good options when building a single CPU/GPU rig these days. The advent of the 80Plus certification system means that cheaper Chinese brands must get better all the time (no legal option), while designs from other parts of the world continue to push hard on price, while offering a great feature set.
In all, it's a tough one and, if you're a regular reader of KitGuru, you're unlikely to make a mistake. The Corsair Builder series is an interesting option for those on a seriously restricted budget – a point which we highlighted last year. It was good to see Antec fighting back in this market and its dynamically coloured Edge 750w PSU was an interesting addition to our internal review spreadsheets. The final two competitors in this section are very evenly matched.
The 600 watt be quiet! Straight Power 10 and Fractal Design Integra M 650 both  deliver close to 700 watts before protection kicks in – although the be quiet! product provides more efficiency when pushed past its advertised wattage and it's fractionally cooler. Then we come to price – and that's where things get difficult. While the be quiet! Straight Power 10 is slightly ahead in most head-to-head tests, both units are still very good and the Fractal Design Integra M 650 is cheaper  – close to the £60 mark.
KitGuru's choice for Value Power Supply Unit for 2014 goes to the Fractal Design Integra M 650w. Read the review HERE.