We begin the KitGuru Annual Awards 2014 with the Central Processor Unit – the CPU at the heart of every system.
The significant performance improvements of the past are proving hard to come by, as competition around the desktop processor has all but dried up.
We worked on an article in the summer that required a Micro ATX build with an AMD processor and it took us a while to source a mainboard. When we did, it was a 760G chipset that had been released years earlier.
With so little pressure on its leadership position, it's impressive that Intel pushes out any new processors at all, but in 2014 it really tried hard to attack and energise the market on all fronts. Much of the innovation happened in the chipsets themselves, so we will go into more detail when we discuss mainboards. For now, the focus is on the best desktop parts for the KitGuru audience.
Overall/Extreme/Professional Award
At first glance, an 8 core processor running at 3GHz for £800 might not seem like any kind of value at all. The challenge with Intel's Core i7 5960X is that it is a complete monster – that can only achieve its full potential in the hands of a skilled professional. Think Toruk Makto from Avatar and you're in the right zone.
Power users would normally pick something like the Core i7 4790K, for £260 or so, and then overclock it hard to 4.7GHz.
In the KitGuru Labs, Luke pushed the 5960X to 4.3GHz and it absolutely mullered the 4790k in tests like Cinebench. With 16 threads running at 4.3GHz, performance from the top-end Haswell-E chip is nothing short of imperious. For that reason alone, there is nothing that comes close.
KitGuru's choice for Overall CPU of the Year 2014 goes to the Intel Core i7 5960X.  Read our review HERE.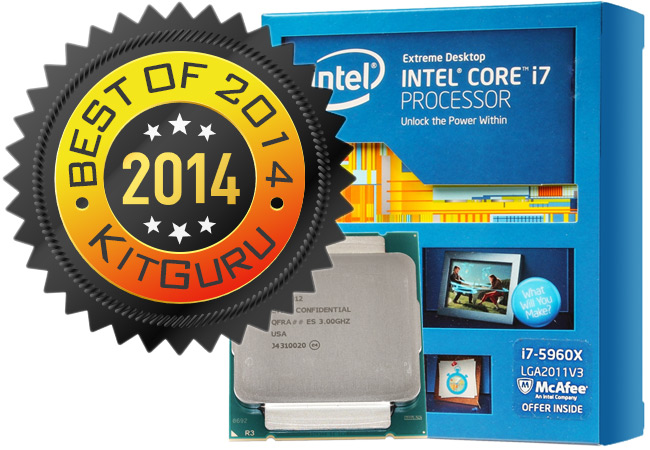 Mainstream CPU Award
We were sorely tempted by the aforementioned Core i7 4790K, but Intel's drive on platform technologies made our choice that much harder. Again, we turned to our KitGuru Labs testing results and one processor stood out against the rest. If you want support for all the cool stuff like DDR4 and Quad Channel memory, not to mention a minimum of six physical cores, then you need to be looking at the 5xxx range of processors.
Our guy Luke had no problems achieving a 4.5GHz clock (up from the stock speed of 3.3GHz) using Intel's Core i7 5820K processor. At that speed, in Cinebench, it eased past the 5960X running at stock speed. Even so, it maintained a reasonable 75 degrees temperature, so no need for anything too exotic in terms of cooling for this 140w processor.
Pure gamers can save a bit and tap into the standard Intel desktop range but, from KitGuru's point of view, none of us are 'one trick ponies' and as soon as you want to get into video, rendering or any number of applications that want more memory bandwidth or increased parallel processing.
The Intel Core i7 5820K is our choice for Mainstream CPU of the Year for 2014. Read our review HERE.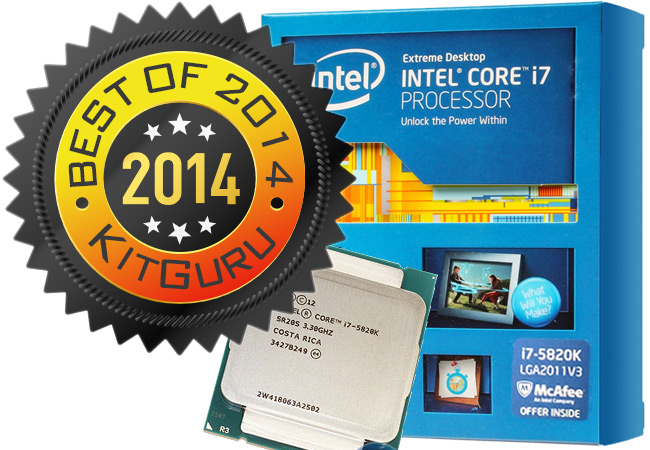 Value Award
Sometime it can feel unnatural to include a 'value' segment for awards, but at other times it makes perfect sense.
On 1st April 2014, KitGuru Labs took delivery on a system whose price performance combination made us do a small double-take. Especially given the date. But the numbers were right. PC Specialist had delivered a competent, entry level gaming system for less than £500 based on AMD's Kaveri 7850K processor. Although it wasn't about to drive a series of 4K screens, it was perfectly competent for the kind of 720p gaming we have all grown used to with the last generation of PlayStation and XBox.
At the start of 2015, the APU series will be the only serious competitor that AMD has against Intel's massed might. Sure, there are some FX chips that make sense, but the only market segment where you can declare anything like a clear win in AMD's favour is the entry level gaming sector. Which is big and important to those on a budget.
For that reason alone, we're happy to declare the AMD A-10 7850K as the Best of the Best in the Value segment for 2014. Read our review HERE.