So you've chosen your CPU, mainboard, SSD, memory and graphics card – what next in KitGuru's 'master class system build' for 2014?
While the traditional 4K screens find themselves dropping under the £400 mark, a new generation of Quad HD monitors is also coming through. Quad HD, in this instance, uses the fact that many people (especially Sky TV) call 720p vertical pixels 'HD'. So by doubling up on the 1280 and 720 numbers, you end up with a QuadHD screen that is 2560 x 1440. We like the resolution, we're just uncertain of a name that references 'HD' and does not mean 1080p. Marketing budgets will no doubt settle this one.
Pioneers in the super-wide format include AOC and its 29″ Q2963 (2560×1080) was our choice for Budget Monitor of the Year 2013. At the same time, our top award went to the Asus PQ321QE for a 4K screen that was just under £3,000.
No other group of components or peripherals has developed quite as fast as the monitor market over the past 12-18 months. It's something we applaud at KitGuru, because driving that many pixels means a serious increase in the amount of processing power needed – which drives the industry forward. The only missing piece of the puzzle is 'How can game developers deliver supreme 4K titles without breaking the bank?'. Still, game publishers making money is not in our remit here at KitGuru, we care only for the cool hardware.
Monitor of the Year
In a world of professional monitors that can span 30″ or more with full 4K resolutions, how strange it seems that the best screen of the year would be a 27″ monitor that was designed primarily for gaming at 2560 x 1440 – a resolution that people seem determined to call 'Quad HD'. Even stranger is the fact that the full feature set of this screen is not available to all users. So why have we looked past all of the other screens we've seen in 2104 and plumbed for the Asus ROG Swift PG278Q?
As always, we start with pure image quality. This screen can deliver better black than the 4K screens we have seen recently and its crisp, even white is better than at least 95% of all the screens we have ever seen. It also offers a 1ms grey-to-grey response time and will deliver up to 144Hz refresh rate. It's when we get to refresh rates that the clever stuff starts, with nVidia GSYNC. The screen dealt with a vast array of fluctuating frame rates, smoothly, with no visible shearing or distortion. It did exactly what it said on the tin and all for £599 (at the time of writing).
KitGuru's Monitor of the Year 2014 goes to the Asus ROG Swift PG278Q. Read the review HERE.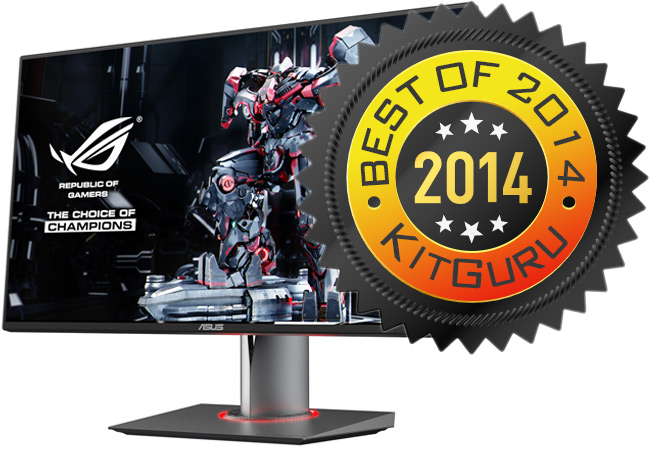 Value Monitor of the Year
While the average spent on a complete PC by Joe Public is under £750 (if you ask the scientific folks at IDC), our research shows that KitGuru readers are much more comfortable in the £1,000 to £2,000 price range – where a GTX750 is considered entry level and the most popular card is something like the GTX970.
When your card can push 4k without SLi or CrossFire, then why would you buy a monitor that didn't have big desktop real estate?
What makes this year's awards a strange affair is that you can choose an excellent 4K screen for less money than our Value Monitor of the Year winner.
The AOC U2868PQU has a simple design, but sports a full set of ports – including one HDMI port, one DisplayPort 1.2, one DVI and one D-sub connectors – as well as a four-port USB hub. Image quality is great. Sure, it's not quite in the same class as the Asus PQ321QE – but then again the Asus costs 4 times as much. At £335, this AOC monitor represents great value.
KitGuru's Value Monitor of the Year 2014 is the AOC U2868PQU. Read the review HERE.