KitGuru is all about performance.  It's hard to imagine buying/building a system that does not boot from a solid state drive, yet most consumers will be buying just that – a desktop or laptop that uses a slow, old mechanical drive, guaranteed to bring performance to its knees.
Your CPU and graphics card GPU/memory work in speeds normally measured in the 'Giga' range, while more of the world's data is still stored on hard drives toward the slow side of the 'Mega' range of data transfer.
Creating a peaceful, smooth experience becomes a game of constant caching – protecting the slow components in your system from the serious demands of the central processing units. Nowhere has this situation improved more in recent times than with the addition of solid state drives – the ability for computers to work with pure memory – free from the speed stunting shackles of spinning hard drives.
This year, we are giving two awards in this important category – one for pure performance, no price consideration – and the second for value. Depending how technologies develop from Seagate etc, next year could well see the addition of a 'hybrid' category – for traditional, mechanical drives that have had an SSD embedded.
Performance SSD
Over the years, we have seen many publications state that an article is about performance – then hand out awards to the product that came second or third, because they had a nicer feature set or slightly lower price. KitGuru generally does not operate that way. When we saw the ballistic data speed from G.Skill's 480GB Phoenix Blade PCI-Express SSD product, our jaws dropped.
Will it cost you north of £500?  Sure, but if you want a drive that can boast maximum read/write speeds in the 2,000MB/sec (while some of your friends with early SATA SSDs will be used to deleting a zero off that figure), then a G.Skill Phoenix Blade is a serious choice. Going past the OCZ RevoDrive 350 in 3 out of 4 tests is impressive, but leaving Plextor's M6e for dust was stunning.
The gap between a 'fast solution for regular people' and 'what you can do with a PCI-Express product' is vast.
KitGuru's choice for Performance SSD in 2014 goes to the G.Skill 480GB Phoenix Blade. Read the review HERE.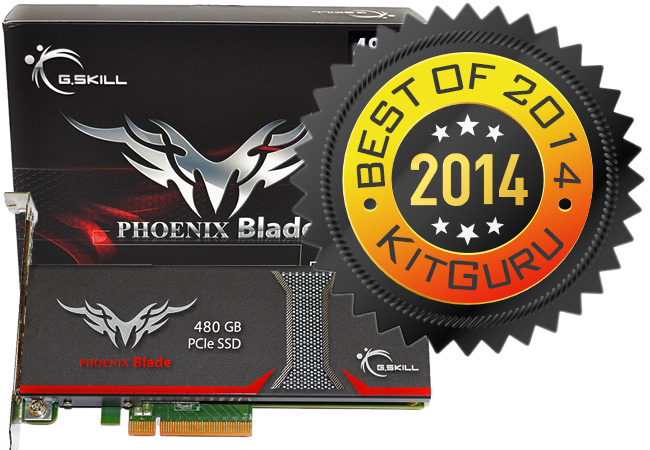 Value SSD
Lots of competition in this market. With the recent price drops, the first thing we are going to do is ignore any drive with a capacity of less than 240GB. Since our first article on 'Can you live with 64GB' which ran almost 5 years ago, KitGuru has constantly re-assessed what users need for a good experience.
OCZ, Kingston, Hynix and Corsair all have sent us good options for less than £100 that will mean you don't need to spend 24×7 worrying if you are about to run out of space.
Sure, 480 and above is nice, but anything over 200GB is readily usable. The upper end of this group is occupied by products like the Plextor M6 Pro 256GB solid state drive, which is a bit of master class in what can be done with a SATA connection, but it does cost a lot more than its rivals, so it misses out in the value sector.
Our winner in this area is a bespoke drive, manufactured by OCZ in conjunction with AMD. The AMD Radeon R7 Series 240GB uses a highly clocked Barefoot 3 controller and when we reviewed it back in August, it had a quoted MTBF (Mean Time Between Failure) that was higher than any other drive on test. In CrystalMark 3.0, nothing short of a RAID set up could match its performance. Priced around £111, it isn't bargain basement, but it does deliver good value.
KitGuru's choice for Best Value SSD in 2014 is the OCZ Radeon R7 240GB. Read the review HERE.