Few topics will cause more argument among experts, enthusiasts and professionals alike – as memory.
Some will say that 8GB dual channel 1600 is plenty for most situations, while others will argue that a processor is only set free when you have 64GB of DDR4, cranked up high in a quad channel motherboard. Given that the difference in price between those two options CAN be enough to buy an Xbox One, you can see why the debate is so heated.
One very important topic is 'clearance' – the space between the top of your memory and your cooler. With a liquid cooling system, you can manage the situation, although top-quality air coolers can cause an issue. For the purposes of these awards, we will ignore height completely, but you shouldn't when buying!
DDR4
Having tested multiple DDR4 kits, KitGuru Labs can safely say that the margin of performance difference between various sets of 3000MHz memory kits is small. When that happens, the only real differentiator between top brands is often price.
At the time we started writing this article, Kingston made a huge move on price, bringing the cost of its 16GB HyperX Predator DDR4 kit down to a more competitive point. While the G.Skill RipJaws 3000MHz 4x4GB Kit edged Kingston in our test – this new price from Kingston was hard to ignore. But, as we were about to go to press, we had a move from G.Skill to £266 and balance was restored.
KitGuru's choice for DDR4 Memory Kit of the Year 2014 goes to the G.Skill RipJaws 3000MHz 4x4GB kit. Read the review HERE.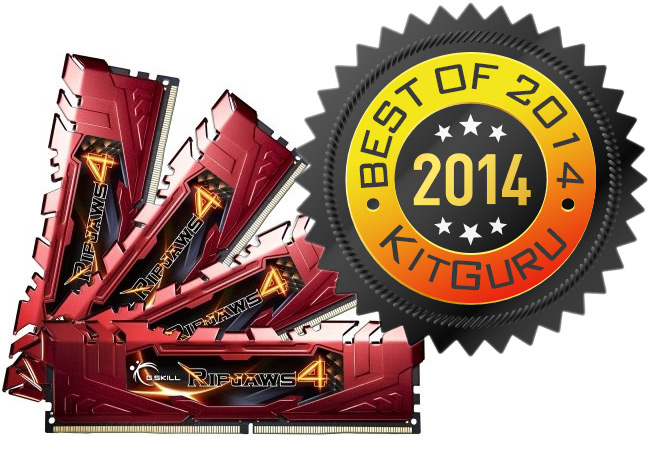 DDR3
A huge amount of DDR3 product came through the KitGuru Lab in 2014, most of it inside systems – but all of it tested an evaluated. With the Haswell-E processors dominating KitGuru's Annual Awards 2014, and the promise of much more to come in terms of DDR4 performance, DDR 3 needs to be seen in a more 'value' light. Cross-referencing the more recent kits with products we've seen and tested in the past, shows just how tight this category is.
While the price may fluctuate, there's little in the market to topple Kingston's 2400MHz Beast kit from its perch. When you look at leading system builders like PC Specialist using XMP-Certified Beast modules in multiple systems, you can understand why for the first (and probably last), time ever – KitGuru has chosen the same product 3 years in a row.
KitGuru's Annual Award for Best DDR3 Memory goes to Kingston's HyperX Beast 2400MHz kit. Read the review HERE.