AMD Basic Tier System:
Our basic AMD system represents the best value solution to offer solid gaming performance at 1080p (1920 x 1080) resolution. While we could have gone even more budget with the basic AMD gaming system by choosing an AMD 3400G CPU with integrated Radeon Vega 11 graphics, being gamers ourselves, we recognise the importance of smooth gameplay with consistent frames per second.
Another area we often see costs saved in pre-built system is the power supply. Something which we don't agree with, a reliable and efficient power supply is a must in our opinion, that's why we chose the be quiet! Pure power 11. 600 W is enough to power the system and the 80+ Gold rating means it is over 87% efficient under load, while the semi-modular cable design provides the added bonus of making the system look neat and tidy.
The combination of an AMD Ryzen 5 2600 CPU and the Sapphire Radeon RX 5500 XT 4GB PULSE graphics card should deliver a consistent 60 FPS at 1080p resolution in most modern titles with graphics setting cranked up a little. The ASRock B450M Steel Legend micro-ATX motherboard provides a reliable platform and potential for future CPU upgrades with M.2 SSD support for high-speed storage that will help boost overall system performance and game loading times.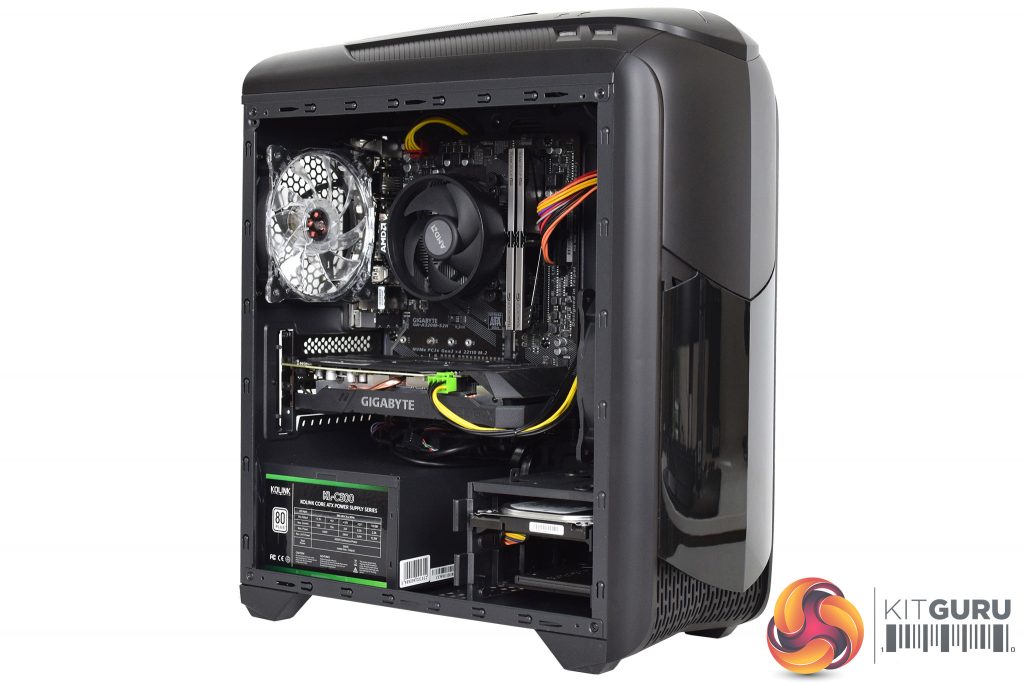 Total Cost: £623.40
Intel Basic Tier System:
Total Cost: £637.84
For our basic Intel gaming system, the CPU choice may not be as strong as the AMD system, however, graphics performance should be on par with the AMD system due to the inclusion of an MSI GTX 1660 6GB Armor OC graphics card. To stick with our £650 budget we chose the Intel Core i3-9100F quad-core CPU which should be able to keep up with 60 FPS gaming at 1080p.
Unlike the AMD Ryzen 5 2600, Intel no longer bundles in a CPU cooler with its processors which is something we had to weigh up with the CPU choice in this system. The unavoidable addition of the Arctic Freezer 34 Esports DUO CPU cooler pushes the price of the system up a little compared to the AMD system. It is a solid cooler though so it will handle the heat of any future CPU upgrades in this system.
Similarly to the basic AMD system, the MSI MAG B365M Mortar micro-ATX motherboard in our basic Intel system provides high-speed M.2 storage options. However, the CPU upgrade options are not as extensive on this platform and limit future upgrades to 9th generation Core processors, 10th generation will require a new platform. This system will be a solid performer on current games at 1080p resolution, it just may not have the longevity of the AMD platform.