After the launch of its RDNA architecture last year, delivering some very solid mid-range graphics cards, today marks the return of AMD to the high-end performance segment of the GPU market. That's right, RDNA 2 is here, and in the form of the RX 6800 XT, it is highly impressive.
As with any new GPU launch, there is a lot to discuss, but above all, raw gaming performance is probably what you are most interested in. Starting first with the 1440p numbers, RX 6800 XT is on average 2% slower than the RTX 3080, it is 23% faster than the RTX 3070 and 21% faster than the RTX 2080 Ti. Compared to the Radeon VII, this RDNA 2 GPU delivers 69% better performance, and that increases to 79% when compared to the RX 5700 XT. Up at 4K, 6800 XT is on average 90% faster than the RX 5700 XT and 23% faster than the RTX 3070. Against the RTX 3080, it is 6% slower at this resolution.
The comparison against the RTX 3080 is particularly important, as both GPUs are similarly priced and AMD has clearly positioned the 6800 XT to go head-to-head with the RTX 3080. We'll discuss overall value shortly, but in terms of raw performance, the 6800 XT does best against the RTX 3080, relatively speaking, at 1440p. It is still slower on average, but only by 2%. Of the 14 games we tested, it is faster than the RTX 3080 in 5 of them at 1440p.
As for 4K, this increased resolution saw the RTX 3080 pull away. Not by a whole lot – we're only talking a 6% deficit on average – but in several games, where the RTX 3080 and 6800 XT were neck-and-neck at 1440p, the 6800 XT fell further behind at 4K. It is still a very capable 4K gaming GPU, averaging over 60FPS in 11 of our 14 games tested, but it is stronger at 1440p, relatively speaking.
Still, even accounting for the small average performance loss against the RTX 3080 at 4K, the RX 6800 XT is the better value card. It has a UK MSRP of £599.99, so from a cost per frame perspective, it is the better value GPU when compared to the RTX 3080, at 1080p, 1440p and 4K resolutions. Again, the differences are small – AMD's GPU is 5% cheaper per frame at 1440p – but it is a win for AMD.
There is also the small matter of ray tracing, something that RDNA 2 now supports thanks to one Ray Accelerator that comes embedded within each Compute Unit. A driver issue with Watch Dogs: Legion meant I wasn't able to test as many games as I would have liked, but Nvidia does still have the upper hand here based on our testing in Control and Shadow of the Tomb Raider. Overall performance of the RX 6800 XT, with ray tracing enabled, could be crudely described as something akin to a 2080 Super or 2080 Ti – it's around that level.
How much this matters to you is going to be down to your opinions on ray tracing in games, but I think AMD has done well to achieve this level of performance with its first ray tracing enabled GPU. At the end of the day, I still think raw raster performance is a bigger deal to the vast majority of people, but prospective RX 6000 owners will be able to enable ray tracing and get a decent level of performance, even if it is a fair ways behind the RTX 3080.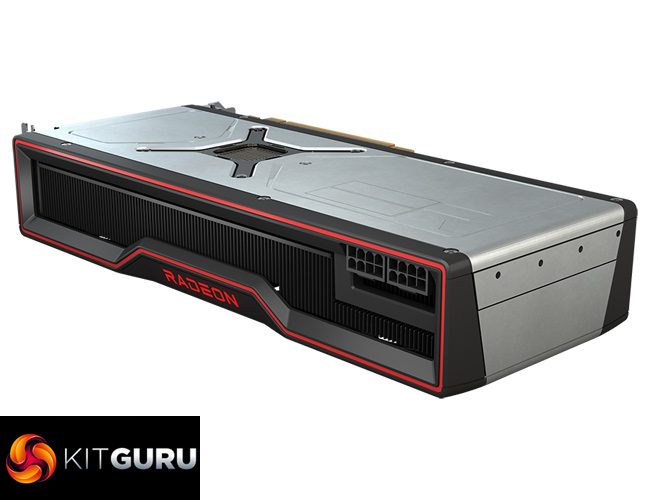 Moving on, I have to admit to being highly impressed with AMD's new reference cooler. Gone is the loud blower-style cooler we have seen for too many years, and in its place we find a sleek and stylish tri-axial cooler, complete with a premium die-cast aluminium shroud. As it turns out, this is by far the quietest AMD reference design I have ever tested, and it is quieter than even the RTX 3070 Founders Edition.
It's so quiet, that the GPU actually runs a little warmer than I'd like, peaking at 81C. It's not a bad result of course, but normalising noise levels to 40dBa resulted in a 10C temperature reduction, so there is plenty of scope to tinker with the fan curve if you want to lower temperatures compared to stock behaviour.
As for power draw, AMD's 300W total board power figure seems entirely accurate, as we measured average power consumption at 298W during our testing. This might not sound overly impressive, but this level of power draw, coupled with the performance levels on offer, means that the RX 6800 XT is actually more efficient than the RTX 3080. Yes, you read that correctly – AMD's GPU delivers better performance per Watt than its closest rival from Nvidia. My goodness have things changed!
We also tried our hand at manual overclocking, and didn't see extraordinary results here – our RX 6800 definitely seemed the better overclocker of the two, as at best we managed an extra 5% performance from the 6800 XT. We will begin testing RX 6800 XT AIB cards soon, and that should give us a better idea as to whether the 6800 XT itself doesn't overclock well, or if our sample was just a bit limited.
Drawing things to a close, AMD is in a fantastic position with the RX 6800 XT. The bottom line is this is a graphics card that can go toe-to-toe with the RTX 3080, and there honestly isn't a clear winner in my opinion. RTX 3080 is slightly faster at 4K while offering superior ray tracing and DLSS support, but the RX 6800 XT is (just about!) the better value product in terms of cost per frame, it is slightly more power efficient and has a larger frame buffer.
Which GPU you should go for is really going to depend on a number of factors, but the end result is clear – Nvidia is no longer the default option in the high-end market segment, something which was nigh unthinkable just a few years ago. Strap in, because we are set for an exciting time ahead!
We don't yet have a buy link for the RX 6800 XT, but AMD has informed us the UK MSRP is £599.99.
Discuss on our Facebook page HERE.
Pros
Very competitive performance.
Better cost per frame than RTX 3080.
More power efficient than RTX 3080.
16GB VRAM capacity.
Huge boost in clock speed compared to RDNA/RX 5700 XT.
Hardware-accelerated ray tracing is finally supported by an AMD GPU.
Quietest AMD reference design I have ever tested.
Cons
RTX 3080 is faster at 4K.
Ray tracing performance isn't as competitive as Nvidia's solutions.
AMD currently has no answer to DLSS.
KitGuru says: AMD has delivered a highly competitive high-end gaming GPU in the form of the RX 6800 XT, offering both better value and better performance per Watt when compared to the RTX 3080. Who knows what Nvidia will do next, but this is surely the start of a hugely exciting time for gaming GPUs.
Be sure to check out our sponsors store EKWB here