This review has been interesting for us especially as we get the opportunity to test a lot of the high end solutions available today with some of the biggest games released in the last couple of years.
The Sapphire R9 290X Vapor X 8GB graphics cards perform very well at high resolutions – Ultra HD 4k has been a particular strong point for the flagship AMD hardware in recent months.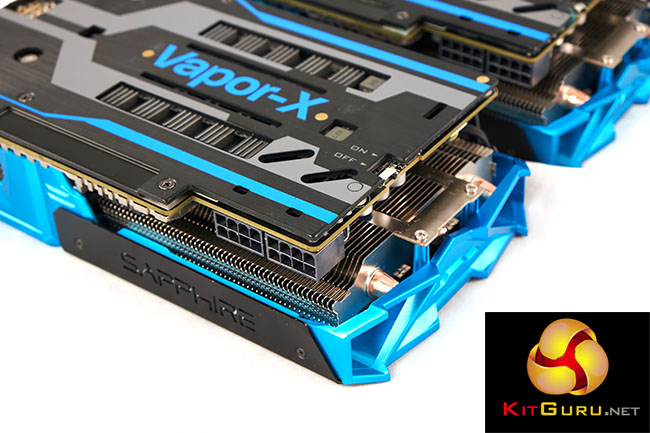 Two Nvidia Titan Z cards in Quad SLI was merely included in this review out of interest, we don't consider this a practical solution. We have never had a wonderful experience with Quad SLI … unless all you do is benchmark with specific programs, such as 3DMark. Titles such as Watchdogs performed terribly for us with two Titan Z's, and we noticed a ton of texture glitching in games such as Far Cry 3. Single Titan Z? not a problem.
Dual or Tri SLI definitely delivers more consistent results overall. While the Titan Z has dropped in price to around £1,100 online, forking out £2,200 on two Titan Z's for Quad SLi is really rather silly, especially when we analyse performance of the MSI GTX980 Gaming 4G cards – priced at £442.99 each. This dual card configuration costs around £250 less than a single Titan Z, and will outperform it easily, while consuming less power. There has been much negative talk of Nvidia launching the GTX980 with a 256 bit memory interface, but in the real world, the new compression engine designed for the Maxwell architecture does help reduce the demand on DRAM bandwidth. Make no mistake these are fantastic cards to pair up with a new 4K screen.

The R9 295X2 is slightly slower than two of the Sapphire R9 290X Vapor X 8GB cards combined, but it has the advantage of being water cooled. The R9 295X2 is actually one of the quietest cards on test today and while it does require an extra radiator to be fitted inside a chassis, it only takes up one slot on the motherboard. In many ways it is more convenient.
A R9 295X2 did cost £1,100, but has recently dropped in price – with the Sapphire model we included in the review today available from Overclockers UK for only £599.99 inc vat. If I was in the market myself for a 4K gaming card, the R9 295X2 would get my money – at £599.99 it is an absolute steal. Well, in relative terms, and within the context of this review anyway.
The Palit GTX780 JetStream 6GB cards were included in SLI today because they ship with the highest amount of VRAM available on an Nvidia GPU, equal to the Titan series of cards. They performed at the bottom, or close to the bottom of the pile today, and as they seem to be still selling for around £400 inc vat, each – in reality they add up to a poor buying decision.
When we reviewed the 6GB GTX780's back in May they rated highly, but the market has changed so dramatically in the last six months. These £400 6GB GTX780 cards are the closest match in price to the Sapphire R9 290X Vapor X 8GB, which retail for £379.99 inc vat. It doesn't take a lot of effort to see that the AMD cards deliver much better performance at 4K, and at a lower price too.
Sapphire are AMD's biggest partner for a reason, they deliver some of the best custom cooling designs you can buy, and their build quality is really second to none. While the Sapphire R9 290X Vapor X 8GB do deliver great results the architecture is starting to look rather dated next to Nvidia's Maxwell. Even with such a sophisticated cooling system, these 290X cards consume much more power, and subsequently run hotter too. The fans spin faster, so more noise is generated under load.
Until AMD release new updated architecture there is nothing Sapphire, or any other partner can do to eliminate this.
You can buy the Sapphire R9 290X Vapor X 8GB cards from Overclockers UK for £379.99 inc vat. At the price they are good value, and with the 8GB of VRAM they offer plenty of futureproofing. If you have your mind set on a high end AMD configuration, this is pretty much as good as it gets.
It is worth pointing out that the 4GB Sapphire R9 290X Tri-X OC is £100 less (£259.99) at OCUK, making it an exceptional deal. Unless you specifically want 8GB of GDDR5 memory, that is a significant saving.



Overclockers UK have created a deal for KITGURU readers. If you want one (or two) of the Sapphire R9 290X Vapor X 8GB cards, then you can enter a special code to get a further £20 reduction – bringing the total price down to £359.99 inc vat.



This is a staggering £240 less than the original asking price of £599.99. Just head to this page and enter CODE KITGURU8GB. You also get five free games with the purchase.
As an overall package, and considering the OCUK/KitGuru price deal of £359.99 inc vat we award the Sapphire R9 290X VaporX 8GB our 'WORTH BUYING AWARD'. Two of these cards are able to outperform an NVIDIA GTX TITAN Z and a pair of 6GB GTX780 Ti – all of which are more expensive.  They have a tougher battle at 4K against a pair of custom GTX980's, but the price difference in their favour certainly means they are difficult to ignore. As already mentioned, the biggest problem is the £100 premium when compared directly against the 4GB Sapphire R9 290X Tri-X solution.
Pros:
built to the highest standards.
8GB of GDDR5 memory for futureproofing.
high clock speeds.
backplate.
great performance at Ultra HD 4k.
Cons:
well priced, but Maxwell based GTX980s are available at only £40 extra.
Sapphire's watercooled R9 295X2 is available now for only £599.99 inc vat.
Sapphire Tri-X 4GB R9 290x's are £100 less.
Kitguru says: Sapphire are pushing current AMD architecture to the limit and for AMD fans these are WORTH BUYING cards. In the overall market place however for only a little extra you can pick up custom, overclocked GTX980's. The quiet, water cooled Sapphire R9 295X2 is also available now for only £599.99 as well – that would get my own money if I wanted to build a 4K system.