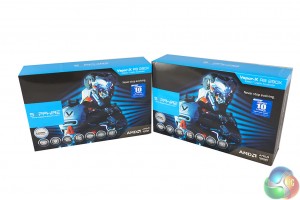 The Sapphire R9 290X Vapor X 8GB ships in a large blue box featuring a futuristic robot.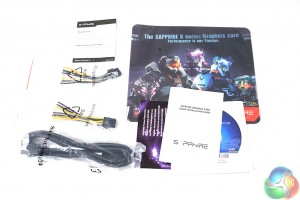 The bundle is reasonably good, some power converter cables, an HDMI cable, software disc and literature on the product. No Crossfire cable is needed as the R9 290X supports bridgeless crossfire. Hopefully Nvidia add something similar in future revisions of their hardware.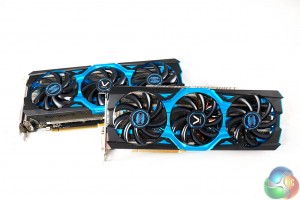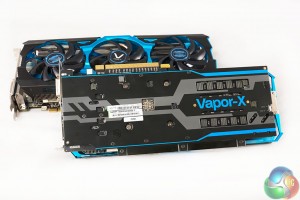 These are large, heavy cards, with a triple fan cooling system. There is a rear backplate to improve cooling efficiency and to offer some level of protection for the delicate PCB underneath.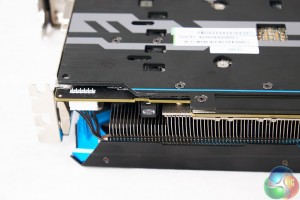 No Crossfire header is needed – but there is a Sapphire button closeby which offers UEFI support.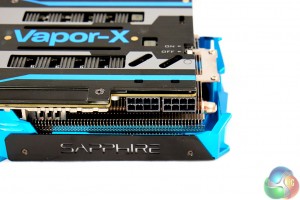 Power is fed via two 8 pin power connections, shown above.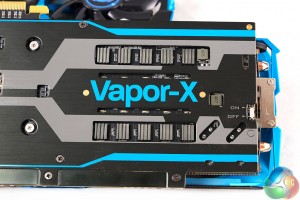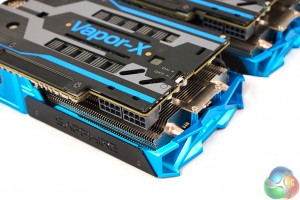 In the middle of the card, on the back is an 'on/off' switch. Sapphire has added a new feature to this card which they are calling 'Intelligent Fan Control (IFC)'. With this feature enabled only one of the three fans (center) will spin with lower loads. When the GPU temperature rises then all three fans will kick in. In theory this should reduce noise emissions under most situations. Gamers and overclockers can turn this off, so the three fans spin all the time.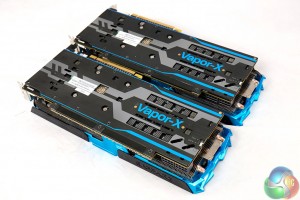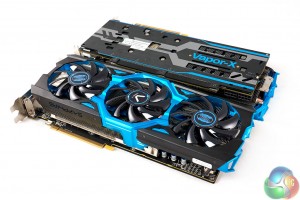 These cards are slightly thicker than 2 slots and they need a little space for air circulation. Be sure your system can accommodate two of them.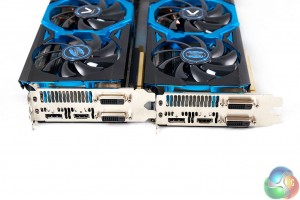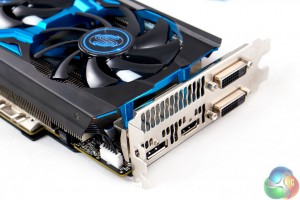 A single link, and dual link DVI connector are present, alongside a full sized HDMI (1.4a) and DisplayPort (1.2) connector. Eyefinity is fully supported and no active adapter is required.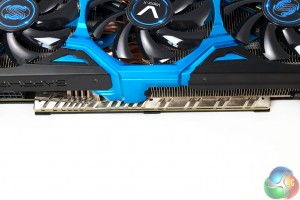 You may have seen the white strip running along the top of the card, close to the two 8 pin power connectors. Sapphire's engineering team have left one of the copper layers exposed. An additional heatsink mounted direct to the copper layer means that heat can be absorbed into the PCB from the GPU, then transferred out. Sapphire claim a reduction in overall temperature by 'several degrees'.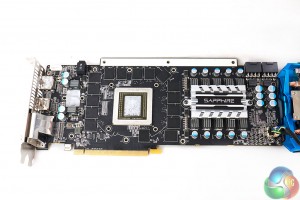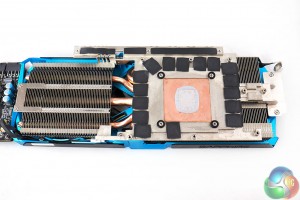 This is a very impressive looking cooler. The R9 290X Vapor-X 8GB card uses Digital Power Control and a new Aero10 VRM section to deliver 10 phase power with high power Direct-FET technology to the GPU, memory and control circuitry.
The power design on this card uses Sapphire Black Diamond chokes – featuring a black ferrite cooler for better efficiency. Sapphire are using high grade electrolyte capacitors throughout the design.

The Tri-X cooler is mounted on top, utilising a monster 10mm heatpipe, with two 8mm pipes and two 6mm pipes spreading across the full length of the PCB.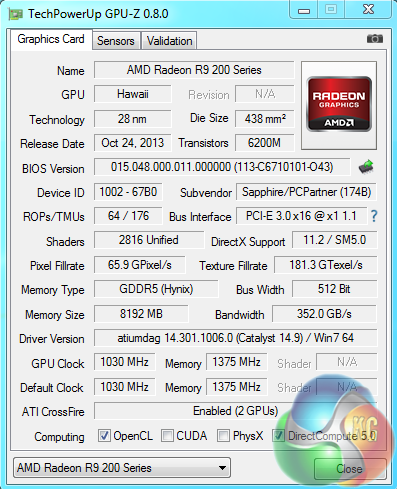 The Sapphire R9 290X Vapor X 8GB is built on the 28nm process and we can see the Bios date is set at Oct 24th, 2013. The Hawaii core is overclocked to 1,030mhz, and the 8GB of GDDR5 memory is connected via a wide 512bit interface, running at 1,375mhz (5.5Gbps effective). There are 64 ROPs, 176 Texture units and 2816 Stream processors onboard.