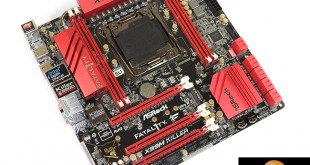 ASRock is aiming to offer gamers an uncompromising set of features with its micro-ATX X99M Fatal1ty Killer motherboard. Doing so will require integration of the X99 chipset's features and the plentiful PCIe connectivity of Haswell-E CPUs. How does ASRock's gaming-series mATX offering stack up to the tough competition that is Gigabyte's X99M-Gaming 5?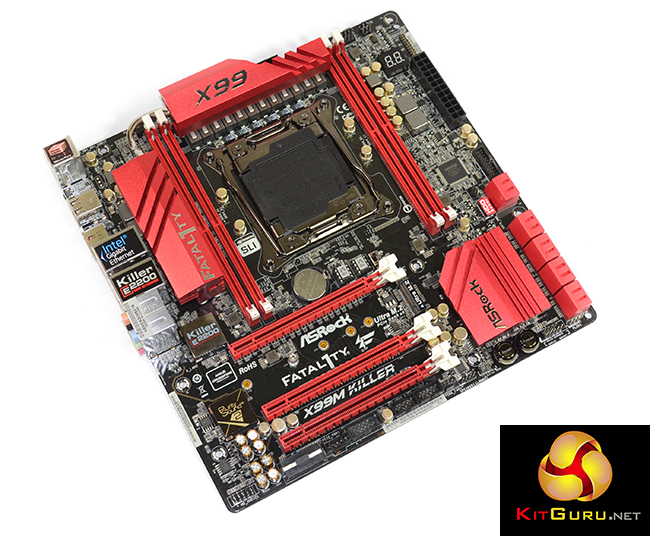 By utilising the PCIe connectivity of Haswell-E processors, ASRock is able to provide its X99M Killer with two-card SLI/CrossFire capabilities, in addition to support for a PCIe 3.0 x4 M.2 SSD. Other gaming-related features come in the form of a Killer E2200 series NIC and ASRock's enhanced Purity Sound 2 audio system.

Understanding that the core concepts of Intel's enthusiast platform are equally important to gamers, the X99M Fatal1ty Killer features 10 SATA 6Gbps, support for up to 32Gb of DDR4 memory, and a power delivery system built for the hungry Haswell-E chips.
Can ASRock's X99M Fatal1ty Killer go head-to-head with Gigabyte's X99M-Gaming 5 and prove that it is the mATX X99 motherboard that gamers are looking for?
Features:
ASRock Super Alloy
Gaming Armor
Digi Power, 12 Power Phase design
7.1 CH HD Audio with Content Protection (Realtek ALC1150 Audio Codec), Supports Purity Sound™ 2 & DTS Connect
Intel®

 

Gigabit LAN + Qualcomm®

 

Atheros®

 

Killer LAN
10 SATA3, 1 eSATA, 1 Ultra M.2 (PCIe Gen3 x4 & SATA3)
Supports ASRock HDD Saver Technology, Full Spike Protection, ASRock Cloud, APP Shop, F-Stream, Key Master, XSplit
ASRock ships the X99M Killer in packaging that is typical in design for its Fatal1ty series boards. The box outlines some of the motherboard's key features on the front side, while a more in-depth look at the specifications is found on the rear.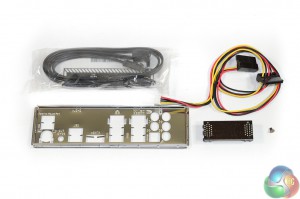 Despite the X99-relevant price tag, ASRock ships the mATX motherboard with a particularly meagre bundle. Only two SATA cables are supplied, despite the board featuring ten ports, and the rigid SLI bridge is more of a washed-out brown colour than pure black.
Throwing in an extra two SATA cables would not have dented ASRock's bill-of-materials budget, nor would have opting for a pure black SLI bridge. They would, however, create a greater sense of satisfaction for buyers laying down almost £200 on a motherboard.
Also supplied is a screw for the M.2 slot, the rear IO shield, and the HDD Saver power cable.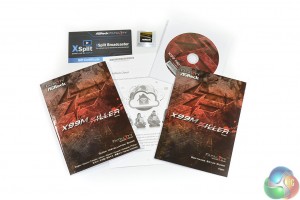 The usual affair of hardware and software installation guides, driver CD, and case sticker is supplied. ASRock also includes a guide for its cloud software, which is backed up by a 1-year Orbweb.me license worth $50.
A valuable addition to many budding gamers is the XSplit Broadcaster and Gamecaster 3-month license which is valued at $24.95.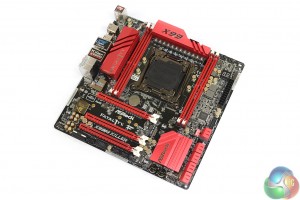 The ASRock X99M Killer uses the tried-and-tested black and red colour scheme. Feedback on our Facebook page suggests that many users are getting rather tired of the combination, although it is undeniably effortless to match with other components.
A pair of large aluminium alloy VRM heatsinks engulf a sizeable proportion of the motherboard's upper half. The cooling blocks were hot to the touch when the system was loaded, implying that they are doing a good job at removing heat from the stressed VRM components.
ASRock's use of a true black PCB (rather than a washed out brown) is positive, and to be expected for a motherboard in this price range.
Rear-side solder points indicate the PCIe 3.0 distribution, with a full set of sixteen lanes being delivered to the first and second full-length slots. Four lanes are given to the third PCIe slot, making it more suited for a supplementary device (such as a PCIe SSD) than a graphics card.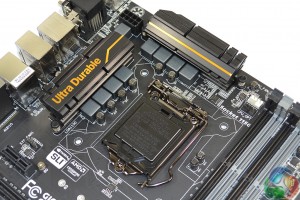 The LGA 2011-3 socket nestles between four DDR4 DIMM slots. Clearance is tight, so don't expect to fit oversized memory modules under a large CPU cooler. We didn't have interference worries with the potent VRM heatsinks – they're short enough to be unobtrusive and do a good job at taking heat away from the hard-working MOSFETs.
Up to 32GB of DDR4 memory (using currently available 8GB consumer DIMMs) can be installed in the board. ASRock quotes supported frequencies of 3000MHz and above, which we will test later in the review.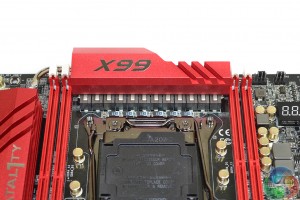 ASRock deploys a twelve-phase power delivery system to feed the hungry Haswell-E CPUs. Management is conducted by Intersil's ISL6379 PWM controller, which is used extensively across ASRock's recent motherboards and seems to be receiving solid feedback amongst the enthusiast crowd.
Six phase doublers take the six lanes output by the ISL6379 controller and duplicate them into twelve links for the electronic components. This results in the twelve-phase system which is driven by six controller channels. The physical electronic components include 60A chokes, Fairchild FDMS3660S MOSFETs, and 12K-rated 'Platinum' capacitors.
Two controllers marked MPDK 8632 cater for the memory and accompanying system voltage control. Dual-N MOSFETs are used for power switching in the memory subsystem.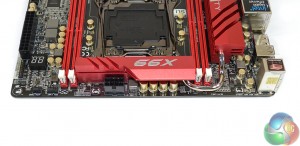 Two CPU fan headers and the 8-pin power connector are found along the board's top edge. Straightforward access to the CPU power connector is provided by means of indenting half of the VRM heatsink.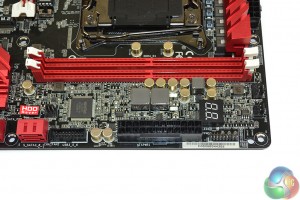 Called Dr Debug, a two-digit LED display is located close to the 24-pin power connector. I strongly believe that a debug display is a must on any overclocking motherboard – the assistance it provides when troubleshooting is convenient.
On one side of the 24-pin connector is an outwards-facing USB 3.0 header that gets its ports from the X99 chipset. ASRock places the TPM header on the other side, in one of the most bizarre locations that I have seen it in.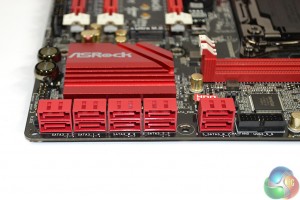 Ten right-angled SATA 6Gbps ports are located in the motherboard's bottom-right corner. All ten of the ports operate directly from the X99 chipset, although Intel's current design only permits the first six to be used for RAID. The remaining four should be reserved for slower mechanical storage, where possible.
The HDD Saver connector is situated behind the right pair of SATA ports. Gamers may find use from the ability to power down certain hard drives when they are not being accessed.
There is no SATA Express connector, although I do not see this as negative. M.2 is taking clear control of the high-speed (PCIe-fed) storage arena, leaving good 'ol SATA 6Gbps perfectly capable of managing large storage drives. SATA Express, in its current form, is either deemed too bulky or too slow for many consumer applications (although that could change in the future).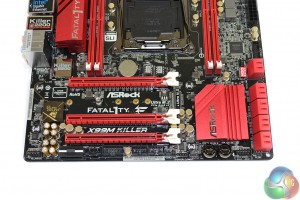 A realistic usage scenario is likely to be two-card SLI and CrossFire. ASRock leaves a 1-slot gap between both of its high-bandwidth PCIe connections. This move provides dual-card support in mATX cases with four expansion slots, but it also means that the graphics boards will be back-to-back.
A 40-lane CPU feeds both of the upper slots with a full sixteen-lane PCIe 3.0 connection. The second slot is dropped to eight PCIe 3.0 lanes when a 28-lane CPU is installed. Both x16/x16 and x16/x8 configurations are perfectly capable of powering two graphics cards, with almost immeasurable performance differences existing between the two setups.
That third PCIe slot is physically wired with four lanes of connectivity, and ASRock routes those from the X99 chipset's PCIe 2.0 stash. I don't have many complaints about this decision – many devices expected to go inside a gaming PC, which aren't graphics cards, are likely to be happy enough with the 20Gbps of bandwidth provided.
Where the decision does cause a lack of flexibility is for dual-card users who have a mATX chassis with five expansion slots. A preferable arrangement for those people would be to use the first and bottom PCIe slots for SLI/CrossFire, leaving a cooling gap between the consecutive boards. With a lane switching controller between the second and third PCIe slots, that would have been possible and would have provided an extra usable slot alongside two graphics cards. But with the lowest slot's physical wiring of four lanes from the chipset, dual graphics cards must be positioned back-to-back, without any additional PCIe devices installed.
Another smart move would have been to add a non-intrusive mini-PCIe (or M.2) slot that could be used with internal wireless adapters. Gigabyte pulled this trick off to great effect with its X99M-Gaming 5.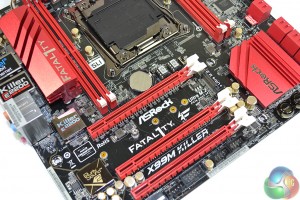 ASRock's Ultra M.2 slot provides a connection speed of up to 32Gbps via four lanes of PCIe 3.0 connectivity. And there is not any interference with the graphics subsystem's lanes, so running PCIe 3.0 x4 M.2 can be done in addition to CrossFire or SLI on 40- and 28-lane CPUs.
There's also capacity to install M.2 SATA SSDs in the slot, although that will render one of the 'non-RAID' SATA 6Gbps ports unusable.
Drive length support is a positive for ASRock's implementation. While the 80mm-long M.2 2280 version is currently the most common form factor, support for up to 110mm-long drives provides future flexibility.
Along the bottom edge we see the usual affair of front panel headers. Audio is found to the left, the shortest signal distance from its related hardware, while the front panel chassis connectors reside to the right.
Other features of note are the two USB 2.0 headers, a downwards-facing molex power connector for beefy graphics configurations, and onboard power and reset buttons. ASRock certifies its Thunderbolt header for use with add-in cards.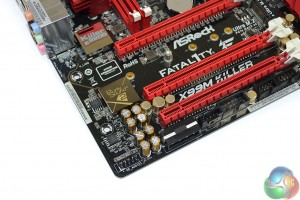 ASRock's Purity Sound 2 audio system is based around the Realtek ALC1150 codec. Nichicon Fine Gold series capacitors smooth the audio signal while a pair of Texas Instruments NE5532 amplifiers cater for high impedance headphones.
A dedicated cover for the codec and a segregated audio path aim to minimise the level of EMI.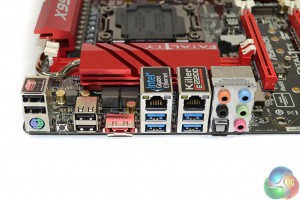 Four USB 3.0 ports and a further four USB 2.0 connectors are provided on the rear IO. All of the ports operate directly from the X99 chipset, and one of the USB 2.0 connections is given ASRock's Fatal1ty mouse port capabilities.
A PS/2 port may please users interested in maximum compatibility, while the rear-mounted clear CMOS button is universally adored by overclockers who use a chassis. The eSATA 6Gbps port shares its connection with one of the 'non-RAID' internal connectors, meaning that only one can be used at any times.
ASRock clearly states which of the LAN ports is provided by the Killer E2200 NIC and Intel's I218-V chipset. Killer's NICs seem to separate gaming enthusiasts – some people like them while others call them a waste of money. By that logic, the inclusion of Intel and Killer NICs is smart on ASRock's part, although it does undeniably add to the X99M Killer's retail price. That will almost certainly be considered a waste of money by a greater proportion of gamers.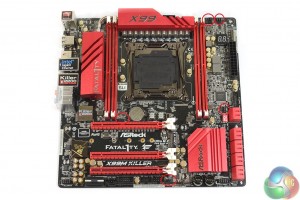 ASRock's fan header distribution is about as good as it gets for a micro-ATX motherboard. Two headers (one 4-pin and one 3-pin) cater for the CPU cooler, while a further three connectors (two 3-pin and one 4-pin) are evenly spread around the board.
Management duties are the task of Nuvoton's widely-used NCT6791D controller.
Dual BIOS chips are provided for redundancy purposes. Both of the socketed chips, and their associated switch, are situated below the CPU socket, making them easily accessible with a graphics card and not-too-big CPU cooler installed.
Firstly, we are pleased to report that our NZXT Avatar S mouse worked to its usual standard in the ASRock X99 UEFI. We've found our NZXT Avatar S to be the most troubling mouse with UEFI support, so when it functions correctly in the interface, that is usually a good sign for overall mouse support.
ASRock's X99 UEFI is consistent across its motherboard line-up. There are subtle differences between the versions, the most notable of which is a different background colour depending on the motherboard's series. The interface uses a 1920×1080 display resolution.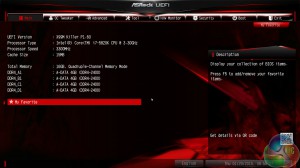 The Main page displays information about the system components. There is a My Favorite section that gives users quick access to their most desirable settings.
The OC Tweaker page controls access to the board's numerous overclocking-related sub-sections. I like the way that ASRock has split its main overclocking sections into separate folders. This keeps the interface clean and makes the desirable settings easy to find. It also proves that ASRock is listening to feedback and taking steps to improve its UEFI user experience.
Overclocking profiles designed by ASRock's engineers are pre-tuned in the UEFI.
Up to five customised user profiles can be saved to the board's internal memory. I feel the five profiles is sufficient for a motherboard that is not intended for competitive overclocking. A USB flash drive can be used to transfer profiles to and from the board.
The standard set of parameter and ratio settings are provided under the CPU Configuration section. ASRock also adds a CPU TJ Max input which is a unique setting allowing users to change their processor's thermal throttling temperature. Approach this setting with caution and appreciation for the involved risks.
There is a strong range of memory overclocking settings provided in their specific sub-section. Users can adjust their DRAM frequency and voltage in addition to viewing their kit's rated, and applied, timings.
I am a little surprised to see no pre-tuned memory overclocking profiles provided. This is a sign that ASRock is reserving the custom tweaked settings for its overclocking-geared motherboards.
Settings relating to the Haswell-E processor's Fully Integrated Voltage Regulator (FIVR) are given their own section. Here users can apply the primary voltage settings that will deliver their quick-and-easy overclocked settings.
Moving over to the Voltage Configuration section is where users can fine-tune the parameters to squeeze even more frequency out of their components.
ASRock typically allows users to opt for automatic, manual, or adaptive voltage configurations.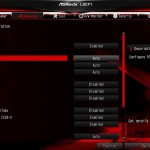 The Chipset Configuration section is useful when ensuring that expansion slots are receiving the correct PCIe bandwidth.
Storage interfaces and their installed drives can also be controlled.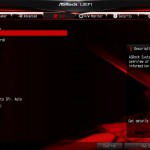 ASRock includes a number of convenient tools in its UEFI. Users can rapidly apply a number of system configurations and drivers can also be downloaded via the interface.
Instant Flash, ASRock's simple BIOS updating tool, scans through one's USB flash drive to search for the relevant BIOS file. While this sounds good, with the tool's ability to scan all the way through your flash drive until it finds the relevant BIOS profile, users with a large amount of data on their drive could find the search time to be in the order of minutes. There's nothing wrong with a manual folder search.
System Browser is a convenient tool that displays which components are connected to the motherboard. The tool is particularly useful for troubleshooting purposes; if, for example, a memory stick is faulty, it will not show up in the System Browser window.
ASRock includes a set of voltage, temperature, and fan speed readings on its HWMonitor page. This is where the Nuvoton SuperIO chipset proves valuable.
One of the biggest differences between ASRock's other X99 UEFI versions and the one found on its X99M Fatal1ty Killer motherboard is the omission of FAN-Tastic Tuning. The tool's visual fan control function will be missed by users who prefer a graphical method of creating their preferable fan speed profile in the UEFI (the OS version remains in place).
Without FAN-Tastic Tuning in the UEFI, users must select from pre-defined profiles, or they can fine-tune their own custom fan speeds by selecting the relevant choices from multiple drop-down lists.
UEFI Summary
In the latest motherboard platform launches, ASRock has worked hard to improve its UEFI. The company has moved to a Full HD – 1920×1080 – resolution, the layout has been re-ordered, the styling has changed, and new-and-improved tools have been designed.
ASRock now has a UEFI that I would deem to be right on the heels of Asus' solution, making it the second best interface on the market (in my opinion). And there are some clear areas where ASRock's interface trumps that of Asus' (System Browser, for example). What is equally positive is that ASRock has clearly listened to user feedback that said the UEFI layout needed improvement.
The interface is well laid-out, easy to use, and full of relevant user-customisable parameters.
ASRock F-Stream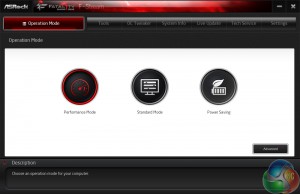 ASRock's F-Stream software for its Fatal1ty series motherboards is practically equivalent to the A-Tuning software found on the vendor's channel parts.
There are three system modes designed for different operating scenarios. We opted for the Performance mode.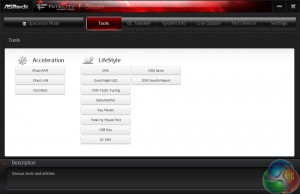 ASRock includes a number of tools in its A-Tuning software suite.
Overclocking settings and parameters can be tweaked via the software, in an OS environment.
Readings relating to system parameters such as voltages, frequencies, and fan speeds are outlined in the System Info page.
The health and other general statistics relating to a storage drive can be read via one of ASRock's tools.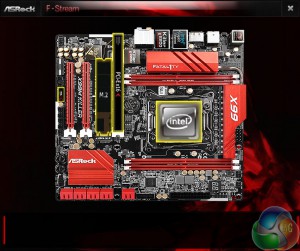 ASRock also puts its convenient Board Explorer tool in the A-Tuning software package.
XFast RAM can be used to create RAM drive, while XFast LAN gives users the opportunity to control their network bandwidth allocation (much like Killer's Network Manager software).
Key Master can be used to assign macro keys, which can be useful for certain high-APM games. There's also Sniper Key which can be used to stabilise mouse movement when high accuracy is required (like when sniping in a FPS game).
Fatal1ty Mouse Port gives gamers the ability to control the polling rate of their mouse. While this a fair inclusion, most gaming mouse software will provide similar functionality.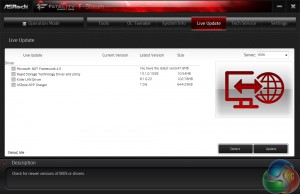 Live Update is well-implemented by ASRock and is more convenient than trawling through a website full of drivers.
ASRock App Shop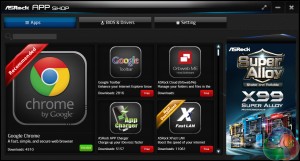 App Shop can be used to download new software, including some pieces from external companies, such as Google.
ASRock also includes 1-year subscription to Orbweb.ME (worth $50) which will be welcomed by users who opt for cloud storage.
We will be outlining the ASRock Fatal1ty X99M Killer motherboard's performance with the Core i7 5820K CPU at its stock frequency (3.6GHz due to forced turbo). Overclocked performance will be outlined later in the review.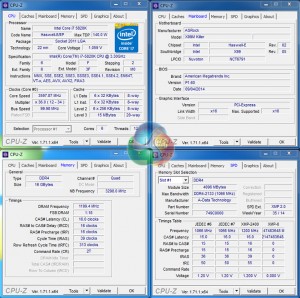 ASRock's X99M Killer does not apply multi-core enhancement (MCE) when XMP is enabled. The all-core turbo mode can be applied with ease by selecting ASRock's well-displayed option in the UEFI.
Applying MCE sees ASRock's Fatal1ty X99M Killer motherboard push the 5820K to a constant 3.6GHz. Unlike many of its competing motherboards, the ASRock UEFI also forces cache frequency to 3.3GHz when MCE is enabled.
While the general user is unlikely to have any quibbles over a free 10% boost to their system's CPU cache speed, it does skew the results of our tests in the direction of ASRock's part (albeit by a small amount).
We have validated ASRock's hardware monitoring software in the past and found its readings to be close to the physical multimeter results. This is a positive, especially when the software is able to show real-time voltages, unlike CPU-Z which sometimes prefers to read from the BIOS settings.
The load CPU voltage for our MCE-clocked (stock) system was just below 1.05V. This voltage level is very forgiving on even mid-range air CPU coolers.
X99 Motherboard Test System:
Compared X99 Motherboards:
Software:
ASRock Fatal1ty X99M Killer BIOS v1.60 (latest).
Catalyst 14.9 VGA drivers.
Tests:

3DMark 1.3.708 – Fire Strike (System)
SiSoft Sandra 2014 SP2 – Processor arithmetic, memory bandwidth (System)
Cinebench R15 – All-core CPU benchmark (CPU)
WinRAR 5.10 – Built-in benchmark (CPU)
HandBrake 0.9.9 – Convert 4.36GB 720P MKV to MP4 (CPU)
ATTO – SATA 6Gbps, USB 3.0, M.2 transfer rates (Motherboard)
RightMark Audio Analyzer – General audio performance test (Motherboard)
Bioshock Infinite – 1920 x 1080, ultra quality (Gaming)
Metro: Last Light – 1920 x 1080, high quality (Gaming)
Tomb Raider – 1920 x 1080, ultimate quality (Gaming)
3DMark
We used 3DMark's 'Fire Strike' benchmark which is designed to be used on gaming PCs. We opted for the Normal setting, NOT the Extreme mode.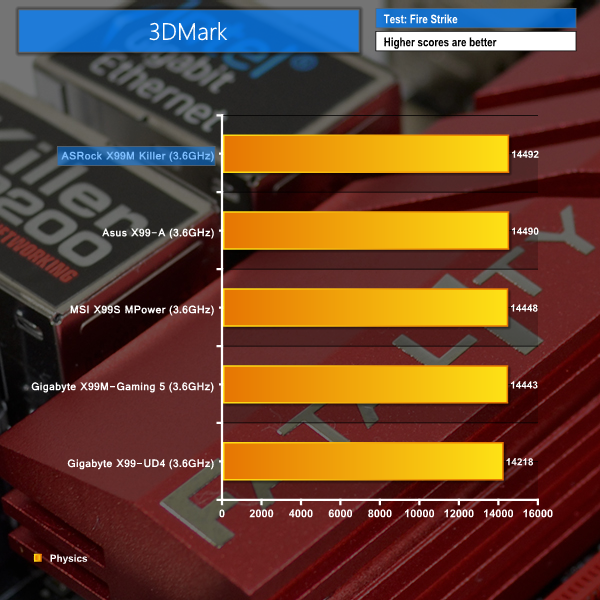 Sandra Processor Arithmetic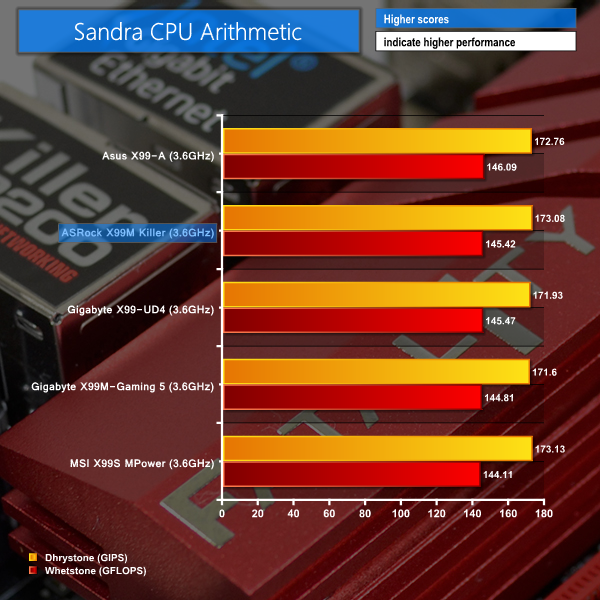 Sandra Memory Bandwidth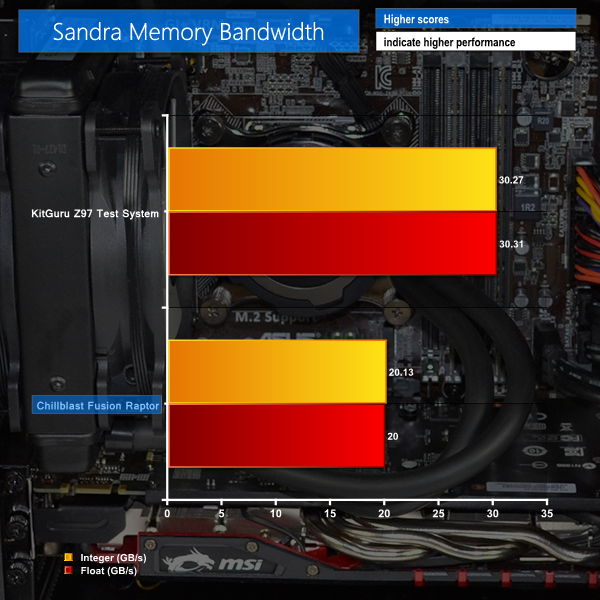 All three of the system-related benchmarks see ASRock's X99M Killer putting in consistently strong scores. The chart-topping results in 3DMark's Physics test and Sandra's Memory Bandwidth benchmark are clearly aided by the ASRock board's 10% boost in CPU cache frequency.
There's little stopping us reaching similar levels on the competing motherboards with no more than a few clicks.
Cinebench
We used the 'CPU' test built into Cinebench R15 .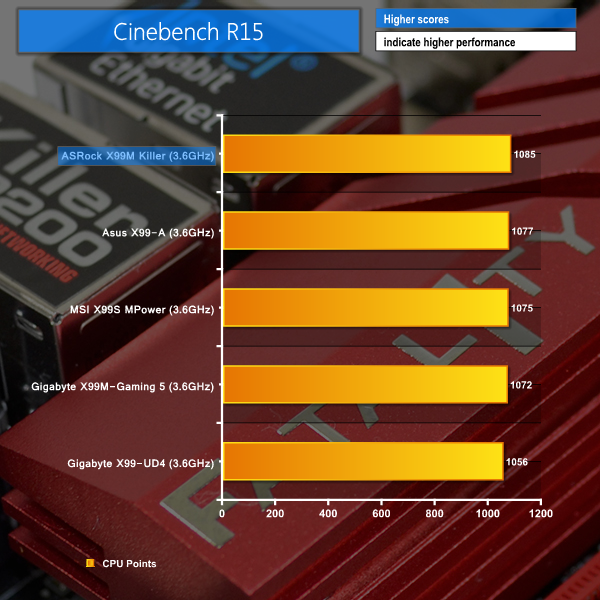 WinRAR
WinRAR's built in benchmark and hardware test can help us outline the performance differentials between each motherboard. We record the amount of data processed after a 30-second run.
Handbrake Conversion
We measured the average frame rate achieved for a task of converting a 4.36GB 720P H.264 movie (in the MKV container) to one in the MP4 container.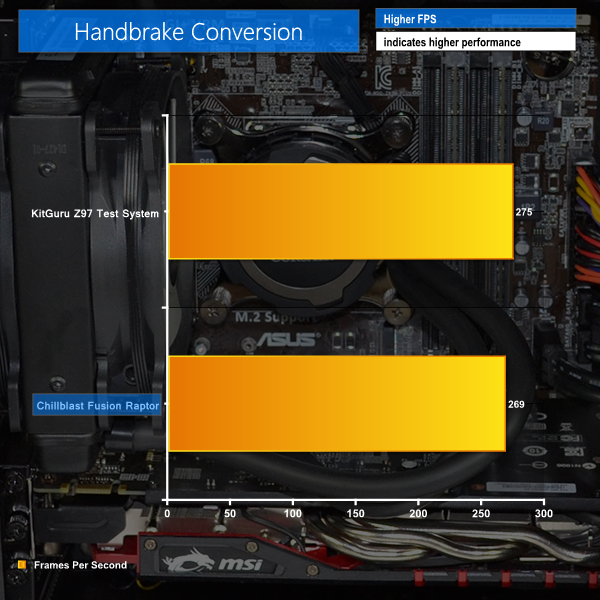 The enhanced CPU cache frequency applied by ASRock's MCE setting is again proving positive in the benchmark results. All three of our CPU-related benchmarks show positive benefits from the 10% speed bump.
As already pointed out, there's nothing stopping us reaching similar performance levels by simply adjusting the CPU cache frequency multiplier on the competing boards. The only real difference is that ASRock increases the CPU cache frequency when its all-core turbo MCE setting is enabled.
Bioshock Infinite
We used the Bioshock Infinite demanding 'Ultra' setting and a 1920×1080 resolution to push today's gaming hardware. Our data was recorded using a section of the game, not the built-in benchmark.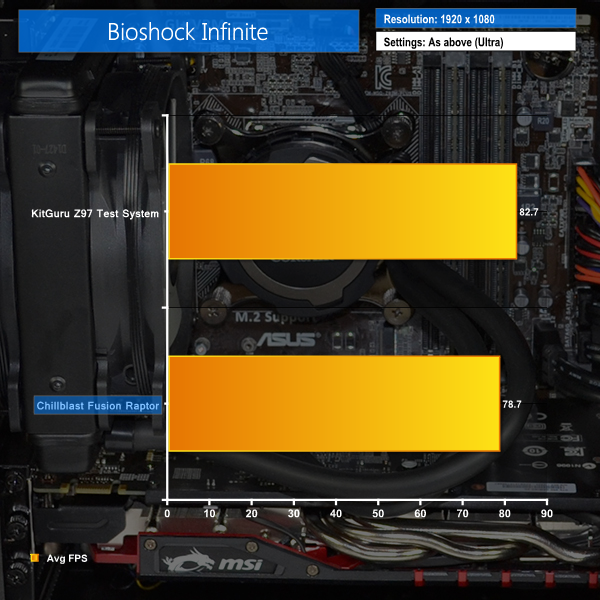 Metro: Last Light
We used a 1920×1080 resolution and the Metro: Last Light built-in benchmark set to 'High' quality to offer an intense challenge for the gaming hardware while also making playable frame rates a possibility.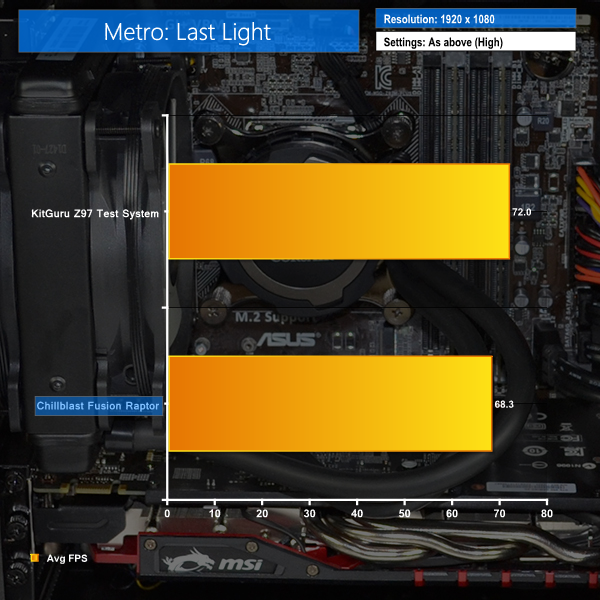 Tomb Raider
We used a 1920×1080 resolution and the Tomb Raider built-in benchmark set to 'Ultimate' quality.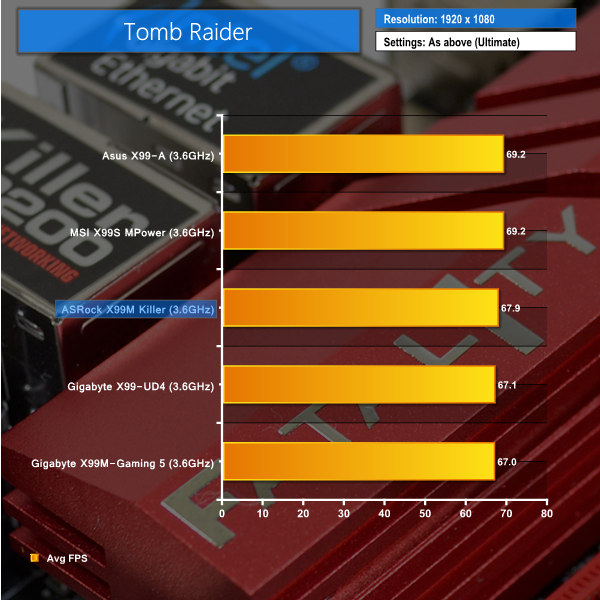 Gamers will be pleased by the strong frame rates set by ASRock's X99M Killer in Metro: Last Light and Bioshock Infinite. Tomb Raider proves a little less favourable on the ASRock board, demoting it to third place in the performance hierarchy and opening a 1.3 frame deficit over the Asus and MSI leaders.
Many games show little benefit from increased CPU frequencies, and this is no different for the 10% increase in CPU cache speed that is applied by ASRock's MCE setting.
M.2 connector
We use Plextor's fast M6e 256GB M.2 SSD to test the speed of a motherboard's M.2 connector. We reviewed the 512GB Plextor M6e (and its PCIe x2 adapter card) HERE. Unfortunately we do not have access to a PCIe 3.0-based SSD to fully test the M.2 connector's performance limits.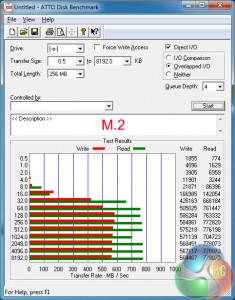 ASRock's 32Gbps-capable Ultra M.2 connector has no problem delivering sufficient bandwidth to Plextor's PCIe 2.0 x2 M6e SSD.
The motherboard's four-lane PCIe 3.0 Ultra M.2 connector is future-proofed for even faster SSDs that may be released in coming months and years.
SATA
For SATA 6Gb/s testing we use a Kingston HyperX 3K (SandForce SF-2281) SSD.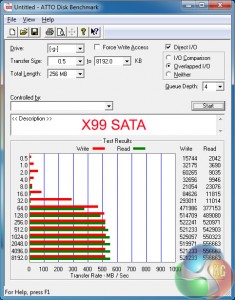 SATA 6Gbps speeds are in line with what we would expect from a motherboard sporting Intel's X99 chipset.
USB 3.0
We tested USB 3.0 performance using the Kingston HyperX 3K SSD connected to a SATA 6Gb/s to USB 3.0 adapter powered by an ASMedia ASM1053 controller.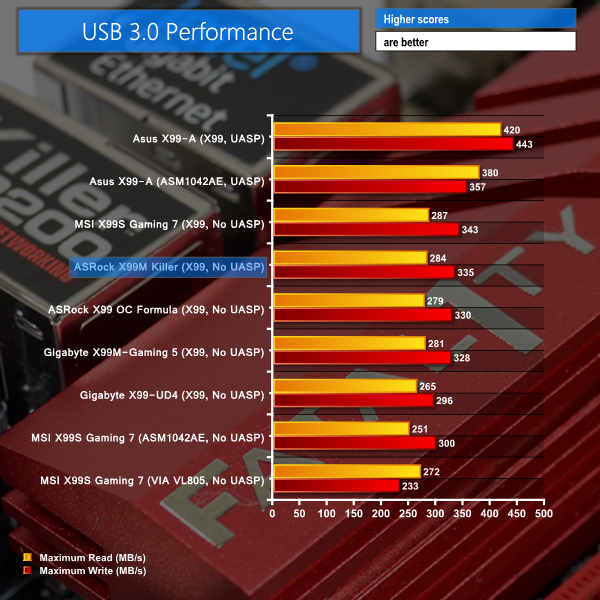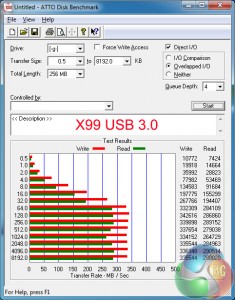 ASRock's USB 3.0 implementation is faster than many of its competitors' applications of the X99-fed SuperSpeed ports. Still, without a valid UASP-activating tool for Windows 7 users, the ASRock ports cannot match the sequential transfer rates set by Asus' solutions and their accompanying USB 3.0 Boost (UASP) software.
For Windows 8.1 users, the speed differences between each vendor's USB 3.0 solution are likely to be less defined, provided the ports derive from the same controller.
Audio

We use RightMark Audio Analyzer (RMAA) to analyse the performance of the motherboard's onboard audio solution. A sampling mode of 24-bit, 192 kHz was tested.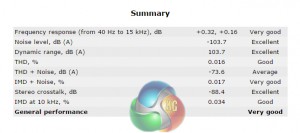 ASRock's Purity Sound 2 audio system is based around the Realtek ALC1150 codec. Nichicon Fine Gold series capacitors smooth the audio signal while a pair of Texas Instruments NE5532 amplifiers cater for high impedance headphones. A dedicated cover for the codec and a segregated audio path aim to minimise the level of EMI.
According to RMAA, the Purity Sound 2 solution on ASRock's Fatal1ty X99M Killer delivers Very Good general performance. The dynamic range and signal segregation performance are particularly strong, however the Total Harmonic Distribution (THD) levels could be better.
Automatic CPU Overclocking:
ASRock includes a set of well-tuned CPU overclocking presets. The main profile settings are as follows:
4.0GHz – 40x CPU ratio, 1.20V adaptive VCore, Auto CPU Input voltage, level 5 load-line calibration (LLC).
4.2GHz – 42x CPU ratio, 1.22V adaptive VCore, 1.85V CPU Input voltage, level 5 load-line calibration (LLC).
4.4GHz – 44x CPU ratio, 1.31V static VCore, 1.9V CPU Input voltage, level 1 load-line calibration (LLC).
4.6GHz – 46x CPU ratio, 1.36V static VCore, 1.9V CPU Input voltage, level 1 load-line calibration (LLC).
These are smart profiles for the 5820K CPU, and I can imagine that most chips will be capable of 24/7 stability at the 4.4GHz setting, provided a high performance cooler is used.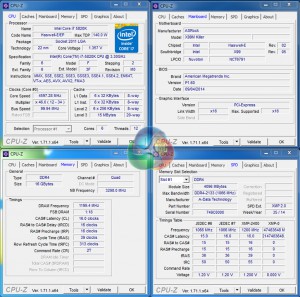 We were able to boot into the 4.6GHz setting with perfect stability. We ran an extended period of Prime95 testing (absolute worst-case scenario for CPU load), and the system was perfectly stable.
CPU temperature, however, reached 90°C within 5 minutes of applying the Prime95 load. And that's with a Corsair H100i CPU cooler and full speed fans. While the 4.6GHz setting was perfectly stable on our system, we would back down to a lower profile for extended usage. 90°C is a higher CPU temperature than I like to see after just 5 minutes of intense load.
We were pleased to note that our memory frequency was left untouched, allowing the kit to operate at its rated XMP settings.
Manual CPU Overclocking:
To test the ASRock Fatal1ty X99M Killer motherboard's CPU overclocking potential, we first increased the CPU VCore to 1.275V, Cache voltage to 1.25V, and CPU Input Voltage to 1.90V. We also disabled the FIVR power saving measures and applied level 1 LLC.
We maintained the DRAM frequency at 2400MHz to take its stability out of the overclocking equation. Cache frequency was maintained at its Multi Core Enhancement level of 3.3GHz, as set by ASRock's board.
ASRock's segregation of CPU and motherboard settings makes the relevant parameter easy to locate. Overclocking in ASRock's UEFI is a straightforward procedure that will be welcomed by gamers who aren't particularly experienced in searching through BIOS settings.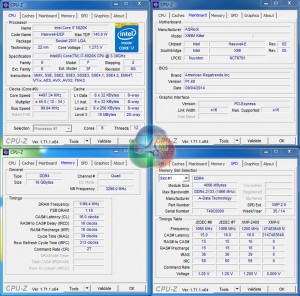 Our 5820K chip's consistent frequency limit of 4.5GHz was as high as we could go with the X99M Killer.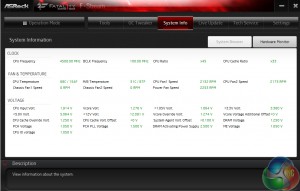 Voltage accuracy of the motherboard was positive. ASRock's hardware monitoring software reported an almost-perfect CPU VCore level and a small – 14mV – overshoot on the CPU Input voltage.
The 4500MHz validation can be viewed here.
Memory Frequency Performance:

Support for high-speed memory kits has been a particularly troubling topic since the X99 launch. We test the motherboard's ability to load the 3000MHz XMP configuration on our G.Skill Ripjaws4 DDR4 memory.
ASRock's X99 Fatal1ty UEFI has no problem detecting the 3GHz XMP configuration of G.Skill's Ripjaws4 memory kit. Getting the kit to initially run at 3GHz is straightforward too – just apply the XMP setting and reboot the system.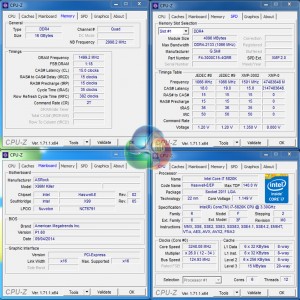 While the X99M Fatal1ty Killer could run the 3GHz memory kit at its XMP frequency with stability, there were some odd system behaviours to be found. For example, the motherboard would refuse to run 3GHz XMP when multi-core enhancement was enabled, presumably due to the switch to a 125MHz BCLK.
However, the most notable oddity occurred during system shut down. The system would power off and then automatically power itself back on and fail to boot. After removing the power and trying to boot again with 3GHz memory, the process would fail. The only solution was to load the default memory settings and start all over again.
This is weird behaviour that we can only assume is related to a BIOS bug. At the moment, 3GHz memory does work, but it is a clear hassle for everyday usage. Hopefully ASRock will fix this issue with future BIOS updates (and I would like to believe that they will). It is also worth noting that ASRock does not display any kits faster than 2800MHz on its memory support list.
The 3GHz memory validation can be viewed here.

We will outline the performance increases that can be obtained from using the ASRock Fatal1ty X99M Killer motherboard to overclock our system. Our overclocked processor frequency was 4.5GHz and memory speed was 2400MHz.
As a performance comparison, we have included the overclocked results from four other X99 motherboards. The maximum overclocked configuration achieved with each board was a 4.5GHz processor frequency and 2400MHz memory speed.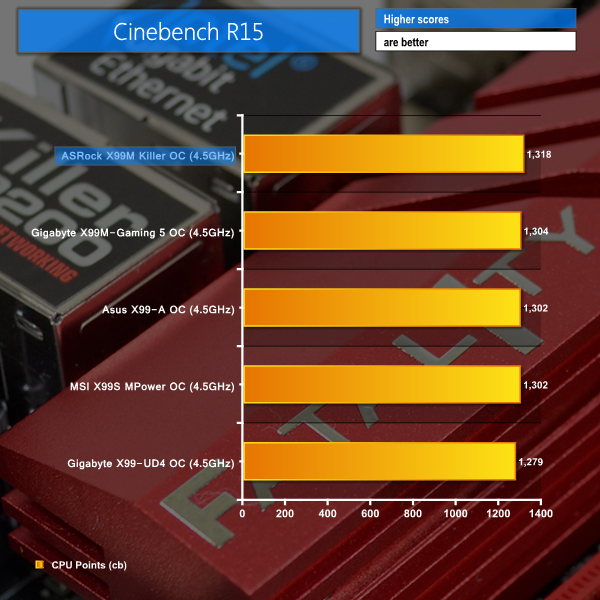 With the CPU overclocked to 4.5GHz, ASRock's X99M Killer continues to show positive performance numbers thanks to its 300MHz CPU cache frequency advantage over the competition.
While XMP dictates the memory operating frequency, voltage, and primary timings, the secondary and tertiary timings are set at the motherboard vendor's discretion. That can lead to performance differences in memory-intensive workloads.
We used G.Skill's Ripjaws4 modules set to their 3GHz XMP frequency to test memory bandwidth and latency numbers.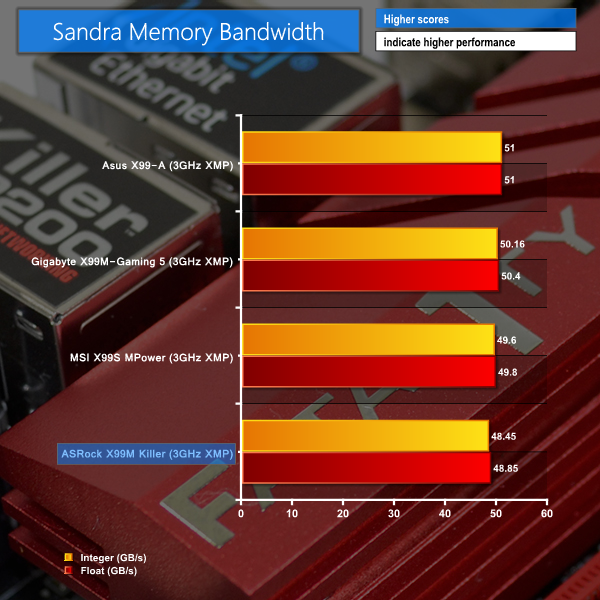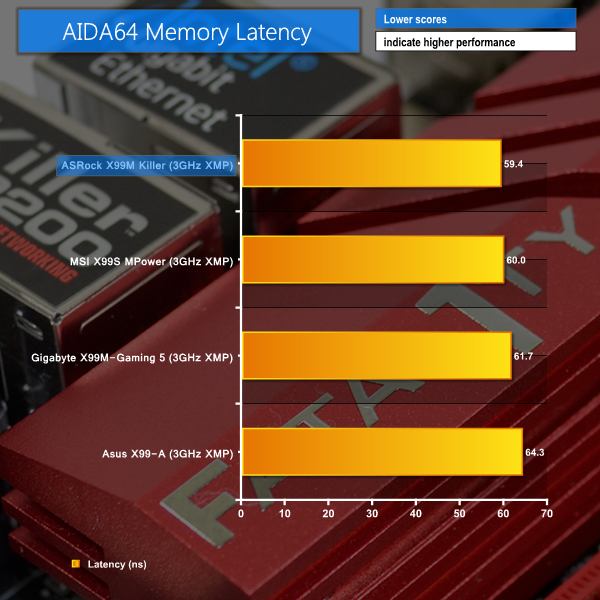 ASRock's X99M Killer struggles to keep pace with the competition's memory bandwidth performance. That does, however, lead to memory latency numbers that are better than any of the competing boards.
These results are purely for test and evaluation. As already mentioned, ASRock's board has an odd bug which causes disruption to everyday system operation when running our 3GHz G.Skill Ripjaws4 memory kit on XMP. By that logic, most 24/7 users will not want to apply the 3GHz XMP setting if they use the same memory kit as we did.

We measured the power consumption with the system resting at the Windows 7 desktop, representing idle values.
The power consumption of our entire test system (at the wall) is measured while loading only the CPU using Prime95′s in-place large FFTs setting. The rest of the system's components were operating in their idle states, hence the increased power consumption values (in comparison to the idle figures) are largely related to the load on the CPU and motherboard power delivery components.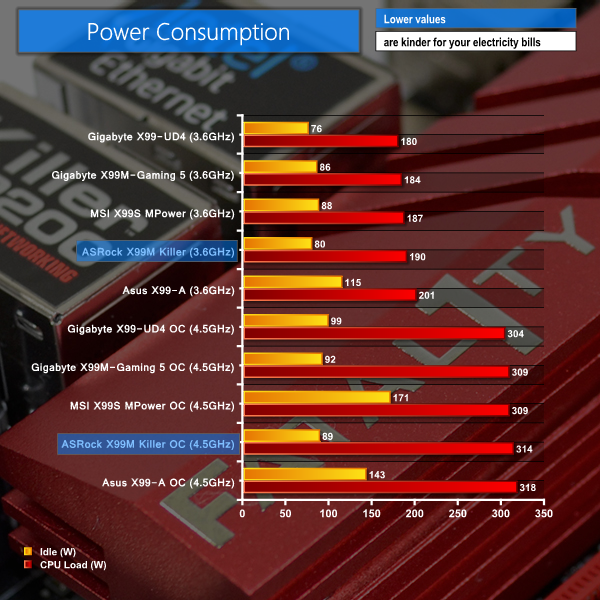 ASRock's use of Intersil's 'hybrid' PWM controller leads to excellent power consumption numbers when the system is at idle. The controller's proportion of analogue components are able to rapidly reduce system voltage in order to lower the energy usage.
At load, however, ASRock's X99M Killer is not quite as efficient as its Gigabyte mATX competitor. That said, the 5-6W difference is unlikely to make an impact on most users' energy bills.
The ASRock X99M Fatal1ty Killer is a well-designed motherboard that employs a number of creative tweaks. Gamers are likely to be satisfied by the multi-card support in addition to high-speed M.2 storage connectivity.
Performance-wise, ASRock's X99M Killer actually posted the highest set of combined scores that we have seen from any motherboard tested with the 5820K CPU. While that's not due to any particular hardware enhancements for the ASRock board, it comes from the 10% increase in CPU Cache Frequency that is applied via the BIOS.
The point being made is that ASRock's mATX part has no problems competing with full-sized ATX boards from a performance perspective.
Overclocking capabilities on the motherboard's CPU side were strong. We had no problem pushing our 5820K CPU to its 4.5GHz limit, and the built-in 4.6GHz profile was also stable, provided you have an adequate cooling solution (something better than the H100i). And if you do manage to mess things up on the overclocking front, ASRock's backup BIOS chip should have you covered.
Memory capabilities were far less positive, however, with the board supporting G.Skill's 3GHz Ripjaws4 kit, but posting a number of interfering errors through standard usage. Put simply, you should be able to run 3GHz memory speeds for benchmarking purposes, but don't expect to operate them on a daily basis unless you are happy to repeatedly fuss about in the UEFI.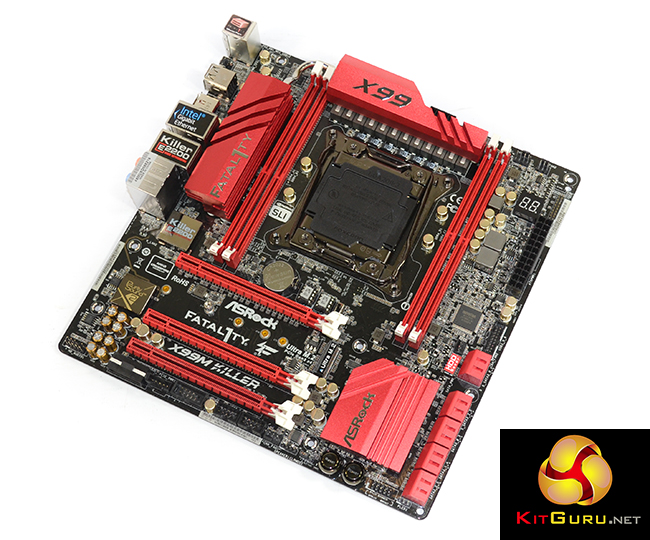 As far as features go, ASRock's X99M Killer provides a healthy set of offerings. There's the strong audio solution, Killer and Intel NICs, gaming device enhancements, and support for 32Gbps M.2 SSDs. That last point is important for users who care about future-proofing their system – higher-than-10Gbps M.2 SSDs are getting ready to enter the market.
Two-card CrossFire and SLI support (alongside PCIe 3.0 x4 M.2) is good, although I would have liked more flexibility on the card positioning. That bottom, lower-bandwidth, PCIe slot should be able to switch lanes with the connector above to provide GPU placement flexibility. An unobtrusive mini-PCIe (or M.2 PCIe) connector for a wireless card would have been useful too.
Priced at £183.59 from Scan, ASRock's X99M Fatal1ty Killer motherboard represents good value for money. At less than £200, it is situated in the lower-cost segment for X99 motherboards, and its retail price is only £10-15 more than that of Gigabyte's direct competitor.
ASRock's X99M Fatal1ty Killer is close to being the motherboard for mATX gamers on the X99 platform. As it stands though, ASRock faces tough competition from Gigabyte's X99M-Gaming 5, and the differences between each board may be enough to throw a potential buyer either way. If you are unaffected by the minor shortfalls, the X99M Fatal1ty Killer is an excellent motherboard for your mATX system.
Discuss on our Facebook page, over HERE.
Pros:
32Gbps (PCIe 3.0 x4) Ultra M.2 connector.
High-bandwidth CrossFire/SLI support alongside fast M.2 connection.
Intel and Killer NICs.
Positive audio system.
Solid power delivery system with good CPU overclocking capacity.
Plenty of connectivity – (up to six USB 3.0, ten SATA 6Gbps, eSATA, M.2 SATA compatibility).
Easy-to-use UEFI and good range of OS software.
Cons:
Not fully stable with 3GHz memory.
PCIe slot configuration could be more flexible for dual graphics card users.
Mini-PCIe (or M.2 PCIe) connector for a wireless card (alongside two graphics boards and an M.2 SSD) would be convenient.
KitGuru says: ASRock provides an ample number of features that is likely to keep many mATX gamers happy with the X99M Fatal1ty Killer motherboard. Support for two-card graphics configurations alongside the 32Gbps Ultra M.2 connector, is a clear highlight.