Grand Theft Auto V is played from either a third-person or first-person view and its world is navigated on foot or by vehicle. Players control the three lead protagonists throughout the single-player mode, switching between them both during and outside of missions. The story is centred on the heist sequences, and many of the missions involve shooting and driving gameplay. Players who commit crimes may incite a response from law enforcement agencies, measured by a "wanted" system that governs the aggression of their response. (Wikipedia).
We test Grand Theft Auto 5 at maximum image quality settings, with MSAA disabled.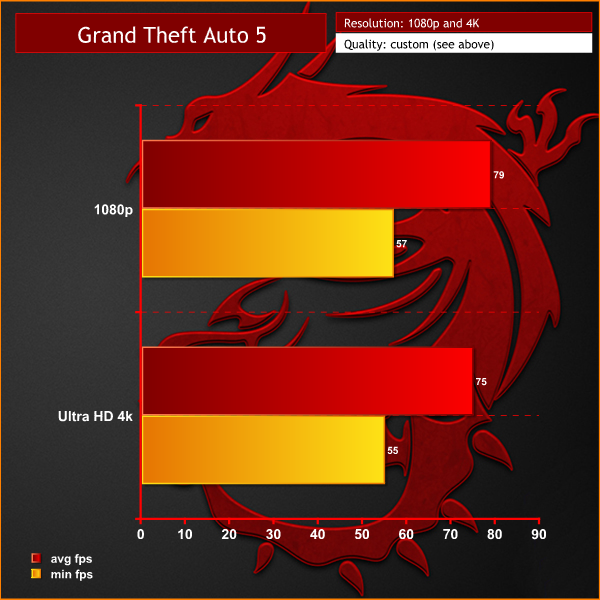 When playing GTA5 at 1080p on the MSI GT83VR 6RF – the results are a victim of CPU limiting. The processor simply cannot keep up and is running flat out at 100%. The average frame rate of 79 is not that impressive for a 1080p resolution. When running at Ultra HD 4k however, the graphics cards are able to deliver class leading performance and the system averages 75 frames per second.
Unfortunately as MSI haven't equipped this machine with a 4K panel the only option is to use an external 4k monitor or set up a 4K resolution within the Nvidia driver panel and let the system downsample to 1080p. You can try this yourself, follow these step by step instructions over HERE.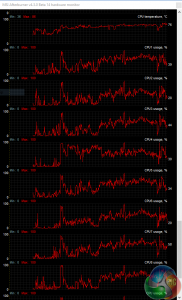 Ed.: We wanted to include a screenshot showing CPU usage throughout the GTA V benchmark run in order to highlight the case for CPU-limited performance. While the CPU usage chart may not show the threads pinned at 100% for the entire time, that is not always the case with CPU-induced bottlenecking in GTA V. Experiments with desktop CPUs in our lab have shown that GTA V can create a situation where the graphics subsystem is bottlenecked without the system exploiting full CPU performance.
While it is incredibly difficult to pinpoint exactly why this is, there are a number of logical suggestions. Hyper-Threading could be a factor. GTA V uses a very well-built game engine that we have observed balancing CPU work over around 10-12 CPU threads (using a 12-thread Core i7-5820K). This creates a situation where Hyper-Threading is used heavily, but there are also some examples of the virtual threads leading to slightly reduced GTA V performance (which is possibly related to the physical hardware being unable to feed data to the additional virtual threads as fast as it could more simply pass through data to a physical core).
Memory speed is another factor, as GTA V can show measurable performance increases by using faster RAM. While the frame rate up-tick for using faster RAM may be minor, when GPU performance is in excess, memory performance can become a more important metric. 2400MHz memory speed is, however, a limitation of the mobile chipset that MSI uses and the laptop vendor has no ability to change that.