The Gears Of War 4 game's plot is set 25 years after Gears of War 3 and focuses on JD Fenix, the son of Marcus Fenix. Gears of War is a third-person shooter game, with its core concepts being derived from Resident Evil 4's "over the shoulder" perspective, Kill Switch's cover system, and Bionic Commando's swinging action akin to moving between points of cover. (Wikipedia).
Above are the settings we used to test Gears Of War 4. These settings are basically maximised for image quality. It is important to point out that when we tested this game there was no SLI profile and running with SLI enabled would cause a minor performance hit. We therefore disabled SLI to test.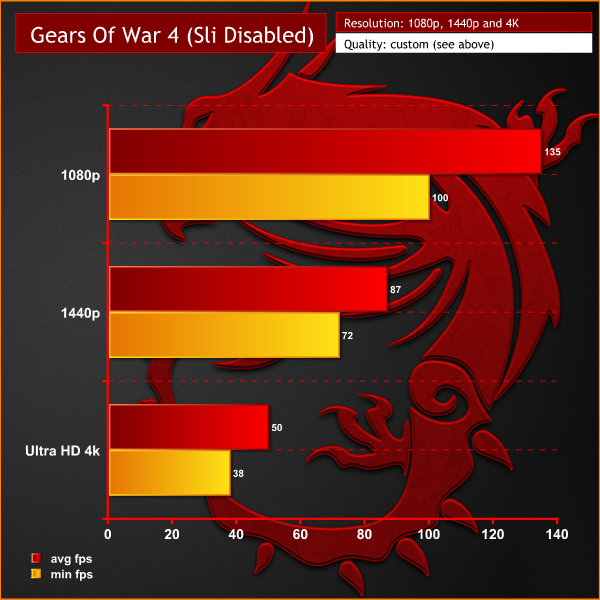 These results are very good, although we hope that SLI support is fixed in the coming weeks. With a single GTX 1080 in operation 4K performance is what we would consider borderline playable. With both GTX 1080's in action we are likely to see a solid 60fps+ at a 4K resolution – exactly why you spend all this money on a laptop with two GPUs.
I found running at 1440p and downscaling to 1080p improved the graphics quality a little, while maintaining an excellent frame rate.