MSI's default install is a little bloated – we are never pleased to see either McAfee or Norton installed on a new system; we would much rather have the option to install our own anti virus and security software.
We also noticed some performance issues with the Windows 10 'Defender' software after the Anniversary update was installed – it would randomly hog up to 30% CPU time. I found it problematic getting accurate CPU results with this software running at all, so we permanently disabled it using a REG file – you can read more HERE.

Despite CPU-Z showing a maximum multiplier of 41x, Intel XTU indicated that the system was running at the default 6920HQ CPU speeds. We did extensive testing to see if there was any situation where the laptop would use a CPU speed of greater than 3.8GHz (as indicated by CPU-Z), but as soon as a load is applied, the CPU speed behaviour is identical to that of Intel's default Turbo Boost speeds for the 6920HQ.
This was further validated by Intel XTU recording a maximum CPU core frequency of 3.5GHz when a 1-core Cinebench workload was applied.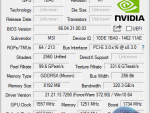 We love the fact that the latest mobile Pascal hardware doesn't need specialised mobile drivers. You can simply install the latest desktop GTX1080 driver to stay updated. We tested with Forceware driver 372.90 installed.
The laptop is equipped with the locked Core i7 6920HQ processor, one of the fastest Core i7 mobile chips in the latest Intel range. I would prefer to have the 6820HK in this system as it is unlocked and can be easily overclocked to a solid 4GHz. MSI actually include the 6820HK in their GT73VR range of laptops but not in the flagship range.
The 64GB of Kingston DDR4 memory is running at 2,400mhz with 17-17-17-39 2T timings.
Even though the MSI GT83VR 6RF is limited with the 1080p resolution panel, we hooked the laptop up to an external ASUS Ultra HD 4K monitor – to test higher resolutions. It is worth pointing out that you can also set up higher resolutions than the panel supports in the Nvidia control panel. Sometimes setting a 1440p resolution, for example, and running it via a 1080p panel looks better than a native 1080p rendering – to my eyes anyway.
If you want to try this for yourself, head to this page for step by step instructions.
Comparison Mobile Systems (for specific synthetic test comparisons):
MSI GS60 6QE (Ghost Pro 4K) (6700HQ)
Razer Blade Pro (2015) (4720HQ)
MSI GT80 Titan (i7 4980HQ)
Razer Blade 14 Inch (2015) (i7 4720HQ)
MSI GS60 Ghost Pro 3K 2QE (i7 4710HQ)
MSI GT72 2PE Dominator Pro (072UK)
MSI GS60 2PE Ghost Pro 15.6 inch (Intel i7-4700HQ).
MSI GT70 2OC (Intel Core i7 4700MQ).
MSI GS70 2OD Stealth (Intel Core i7 4700HQ).
MSI GE40-20C Dragon Eyes (Intel Core i7 4702MQ).
PCSpecialist Inferno 11.6 inch (Intel Core i7 3630QM).
MSI GX60 (AMD A10 4600M).
Lenovo ThinkPad X1 Carbon (featuring Core i5 3427U).
Lenovo ThinkPad Edge S430 (featuring Core i5 3210M).
PC Specialist Vortex III HD72 (featuring Core i7 3610QM).
Asus G74SX-91013Z (featuring Core i7 2360QM).
Dell XPS 14z (featuring Core i7 2640M).
AlienWare M18X (featuring Core i7 2960XM Extreme Edition).
MSI CX640 (featuring Core i5 2410M).
Intel Core i7 2600k desktop processor.
Intel Core i5 2500k desktop processor.
Comparison Desktop System (for some gaming tests).
Detailed specifications over HERE.
Asus GTX980 ROG Matrix Platinum (1,241 mhz core / 1,753mhz memory)
Asus R9 290 Direct CU II OC (1000 mhz core / 1,260 mhz memory)
Gigabyte GTX770 OC (1,137mhz core / 1,753 mhz memory)
Sapphire Dual X R9 285 (965 mhz core / 1,400 mhz memory)
XFX R9 280X DD (1,000 mhz core / 1,500 mhz memory)
Asus Direct CU II GTX 760 OC (1,006mhz core / 1,502mhz memory)
Asus GTX750TI Strix OC Edition (1,124mhz core / 1,350mhz memory)
Software:
3DMark 11
3DMark
Cinebench R11.5 64 bit
Cinebench R15 64 bit
FRAPS Professional
Unigine Heaven Benchmark
SiSoft Sandra
CrystalDiskMark
Steam VR Benchmark
Cyberlink MediaEspresso 6
Games:
Gears Of War 4
Grand Theft Auto 5
Hitman
Rise Of The Tomb Raider
Ashes Of The Singularity
Metro Last Light Redux
The Witcher 3: Wild Hunt
Total War: Warhammer
Deus Ex: ManKind Divided
Other Hardware:
Fluke IR Thermal Imaging Camera
Leica S Medium Format Camera with prime lens
Sennheiser HD800S Headphones (Review HERE).
Razer Mamba 16,000 dpi mouse.
All the latest BIOS updates and drivers are used during testing. We perform generally under real world conditions, meaning KitGuru tests games across five closely matched runs and then average out the results to get an accurate median figure. If we use scripted benchmarks, they are mentioned on the relevant page.
Game descriptions edited with courtesy from Wikipedia.