A little over a week has passed since AMD launched the RX 5600 XT, and today we are back with a review of Gigabyte's RX 5600 XT Gaming OC 6G model. As the company's flagship 5600 XT card (at least until an Aorus model is released), this Gaming OC has received a new BIOS updating the memory to 14Gbps, with a maximum GPU boost frequency of 1750MHz.
Those are also the exact same speeds which Sapphire's RX 5600 XT Pulse operated at once it has has received its own BIOS update, so it will not come as much of a surprise to learn that overall performance is almost identical between the two cards. In fact, the average performance difference between the two cards is actually 0%, with many games showing less than a single FPS difference between the two.
That means all of our performance conclusions from our launch day review hold true here. Compared to RTX 2060 Founders Edition, the Gigabyte 5600 XT is 4% faster on average, but RTX 2060 Super is itself 11% faster than the Gaming OC. Compared to the RX 5700, too, that GPU is only 7% faster than the 5600 XT, which is not a lot considering the 25% price premium of the 5700 (in terms of launch MSRPs).

Overall, the 5600 XT with its BIOS update is a good card for high refresh-rate 1080p gaming, and also some 1440p gaming too. You won't always hit 60FPS at that resolution, but with a few tweaks to the image quality settings this is a great entry-level 1440p card.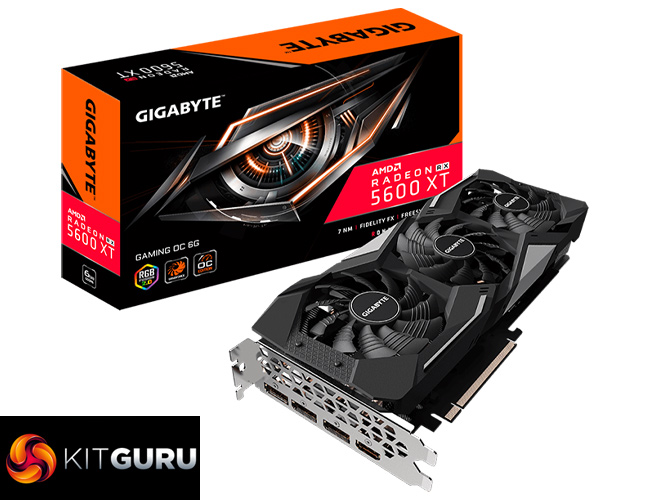 The Gaming OC also performs well in terms of its temperature and acoustic testing. We saw a peak edge temperature of just 67C during our stress test, which is a 7C reduction compared to the Sapphire Pulse. However, the memory also ran hotter with this Gigabyte card, peaking at 82C. This is still well within spec so it's not like overall performance or stability is affected by this temperature, but Sapphire's memory did run 8C cooler.
Noise levels are very impressive, with total output peaking at less than 39dB on our sound meter. This was with the fans spinning at just 31%, so you'd be hard pressed to actually hear this card operate once it's installed in your case.
The main downside for the Gaming OC is its price. Set to cost £289.99 here in the UK, not only is this more than the Sapphire Pulse which is currently £259.99, it is also £30 more than some RTX 2060 models. While RTX 2060 is the slightly slower card on average, you don't have to contend with any BIOS shenanigans – I confirmed with Gigabyte that the first wave of 5600 XT Gaming OCs to land in the UK will need end-users to update the BIOS – and RTX 2060 also offers entry to the world of RTX ray tracing, so that could be a factor for some.
Overall, the conclusion is therefore quite simple – if you can find the Gigabyte RX 5600 XT Gaming OC on sale, it is a good card and a good buy. At the current price point of £289.99, it is hard to justify the extra expense when compared to other 5600 XTs like the Sapphire Pulse, and also when compared to cheap RTX 2060s.
We don't yet have a buy link for this card, but the UK MSRP has been confirmed at £289.99.
Discuss on our Facebook page HERE.
Pros
GPU runs cool.
Very quiet under load.
Faster than RTX 2060.
Improved efficiency compared to previous AMD GPUs, like Vega 56.
Cons
More expensive than Sapphire Pulse 5600 XT, and other RTX 2060s.
Memory runs hotter than the Pulse.
RTX 2060 offers ray tracing.
End-users may have to update the BIOS themselves.
KitGuru says: The Gigabyte RX 5600 XT Gaming OC is an objectively good card, however it would be more competitive with a £20-30 price cut.