We first measure GPU temperature while the card is sat idling at the Windows 10 desktop for 5 minutes. Gaming GPU temperature is recorded by running Unigine Heaven DX11 benchmark for 5 minutes. As a maximum stress test, Furmark is run for 5 minutes and the cards' GPU temperature levels are recorded.
Ambient room temperature was held at around 19-20°C.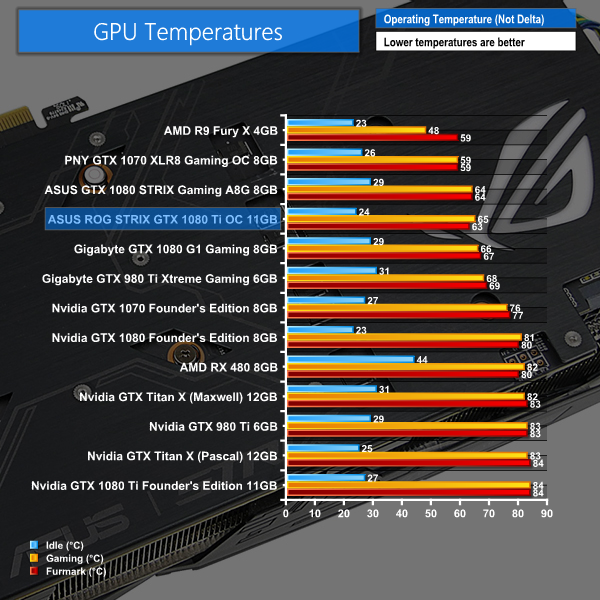 Cooling performance from ASUS' 2.5-slot, triple-fan design is simply superb. We struggled to push the GPU temperature past 65°C throughout our testing. Under full load, ASUS' card operates almost 20°C cooler than the GTX 1080 Ti Founder's Edition while also running at a faster core frequency.
Even with the fan speed level at around 37% during the gaming load, there is plenty of headroom to the default severe thermal throttling point of 84°C.
Thermal imaging shows the backplate doing a decent job at spreading heat, despite not being in direct contact with rear-mounted electronic components. There are no distinct hot zones that look like they could cause issues if in contact with a plastic cable or similar object.
The power delivery components mounted on the rear of the PCB were the hottest sections of the card. A cut-out in the backplate allows them to receive incidental airflow for cooling. It would have been smarter for ASUS to cover these with the backplate and use the large slab of metal to cool them.