Noise output of the graphics card is measured using the fan speed percentage associated with each of the temperature recordings displayed on the previous page.
In order to focus solely on the noise output by the graphics card in question, we disconnect all fans from the test system so that the only moving parts are the Corsair H110i GT's pump and any components relating to the graphics card.

The NZXT Phantom 630's side panel is removed in order for us to focus specifically on the graphics card's noise emissions. We also place the acoustic measurement equipment very close to the graphics card (around 10 cm away from it) in order to better detect noise differences between each graphics card. This is also a scenario that will be similar to a user who has their system sat on the desk directly next to where they are sitting.
The background noise level sits around 37-38 dBA without the test computer running.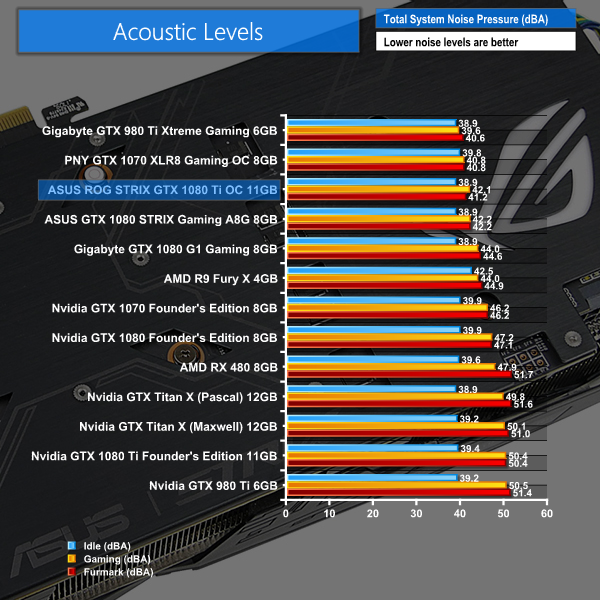 As was the case for thermal performance, noise emission results for ASUS' triple-fan cooler are superb. ASUS' card is noticeably quieter than the GTX 1080 Ti Founder's Edition when running a game. At 33% fan speed (the Furmark level), the STRIX cooler was hard to distinguish above the background noise of our Corsair H110i GT AIO's pump.
If you have an AIO liquid cooler with high-speed fans installed in your system, it is unlikely that the ASUS ROG STRIX GTX 1080 Ti will be audible over it when running a game. Our sample card exhibited no coil whine whatsoever.