Our best overclocking result gave a +85MHz increase to the GPU Core frequency and +450MHz (+0.9GHz effective) for the GDDR5X VRAM. To achieve these values, we increased the board's allowable power delivery by 20% and set a higher fan speed to eliminate thermal throttling (though our 67% value was far higher than necessary).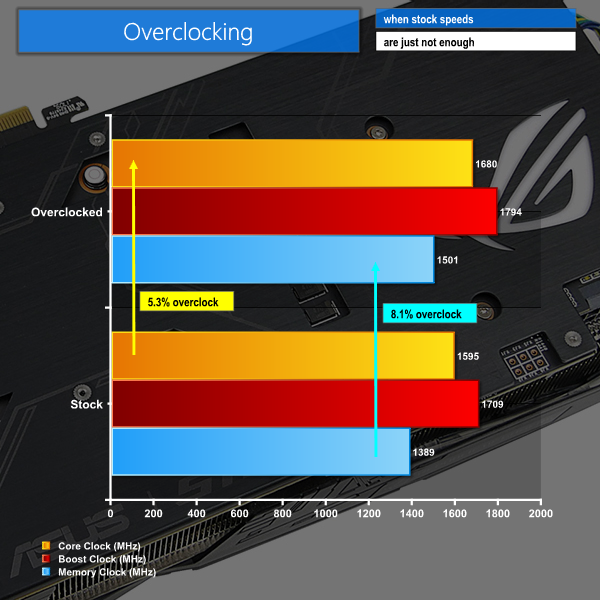 Our overclocking result for ASUS' ROG STRIX GTX 1080 Ti OC was noticeably better than what we achieved with the Founder's Edition board. This seems to be a direct result of the improved power delivery solution for ASUS' card, as well as the vastly superior cooler.
The core frequency was practically locked at 2050MHz throughout our testing with multiple runs of the Gears of War 4 and Rise of the Tomb Raider benchmarks at 4K, in addition to the 4K 3DMark Fire Strike Ultra test. As confirmed by ten runs of the Fire Strike Ultra Stress Test, the card was perfectly happy with its 2050MHz operating core frequency and 12GHz GDDR5X VRAM.
MSI Afterburner reported the voltage limit as the general reason for ASUS' ROG STRIX GTX 1080 Ti sitting at 2050MHz core frequency. Voltage mod to the BIOS, anyone?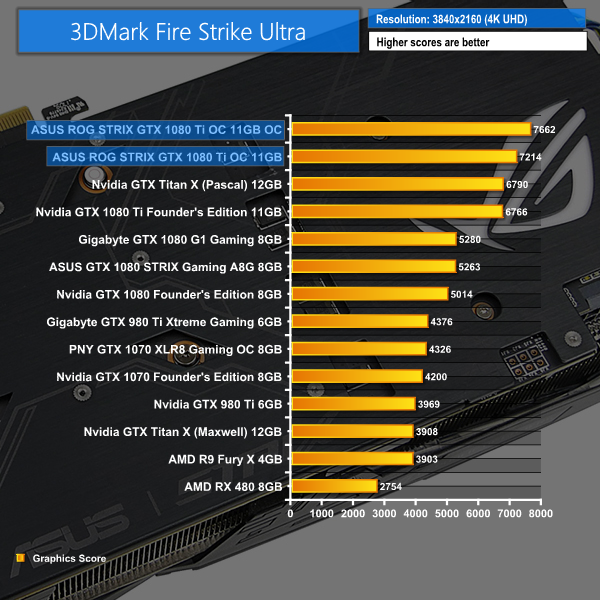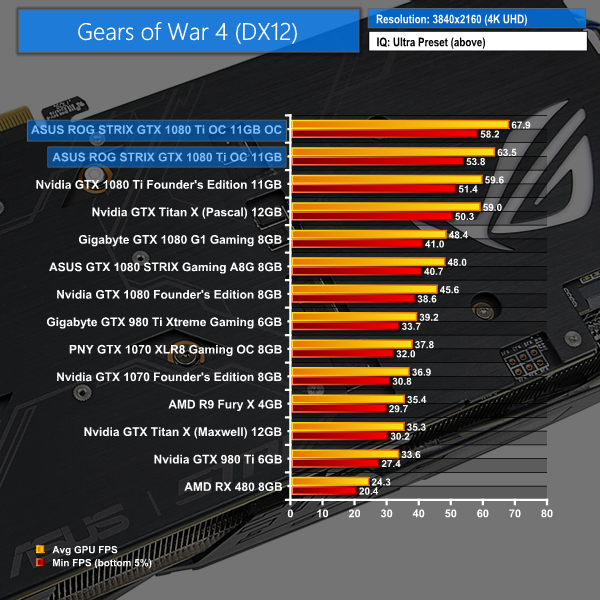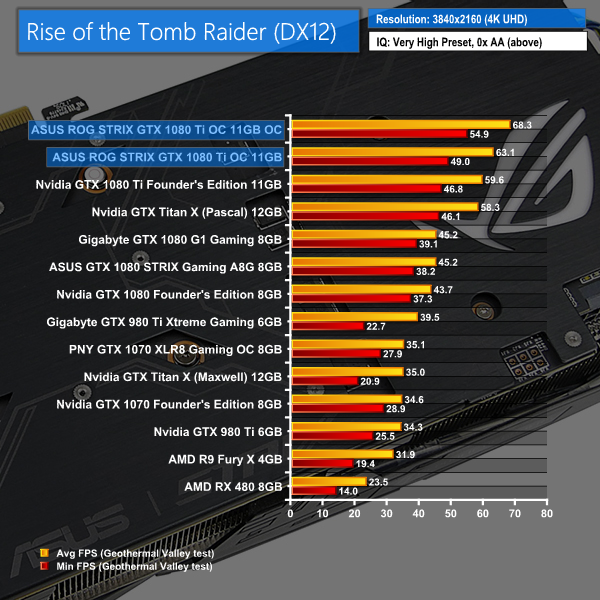 Performance boosts for our overclocked results were sizeable, even over the already-overclocked ROG STRIX GTX 1080 Ti OC in its out-of-the-box form. Our 3DMark Fire Strike Ultra score was 6.2% higher (13.2% versus stock GTX 1080 Ti FE), Gears of War 4 was 6.9% faster (13.9% versus stock GTX 1080 Ti FE), and Rise of the Tomb Raider performed 8.2% better (14.6% versus stock GTX 1080 Ti FE).
If you are interested in seeing how these results compare to the overclocked GTX 1080 Ti Founder's Edition, the figures on THIS PAGE are directly comparable. Compared to our overclocked GTX 1080 FE configuration, ASUS' manually-tuned ROG STRIX GTX 1080 Ti OC is 3.8% better in 3DMark Fire Strike Ultra, 3.5% better in Gears of War 4, and 5.4% better in Rise of the Tomb Raider.