Packaging for the ASUS ROG STRIX GTX 1080 Ti OC is standard for an Nvidia card delivered by ASUS. Graphics of the card itself and some of the key features are shown on the front and rear sides of the box.

A slim accessory bundle consists of two Velcro cable ties and a dual-6-pin to 8-pin PCIe power adapter. Don't use that adapter if you are buying a graphics card of this calibre; you should already own a sufficiently capable PSU before spending £800 on a GPU, plus those red and black cables will be perceived as ugly to many buyers who care about aesthetics.
The drivers CD and documentation should find a loving home inside your bin. Get the latest drivers from the Nvidia website.
A dark black colours scheme is used for the ASUS ROG STRIX GTX 1080 Ti OC graphics card. Personally, I think this is a clever idea as it allows a buyer to make use of the onboard RGB LED lighting to create a colour scheme of their choice, while the cooler shroud stays a neutral black that is easy to accompany.
Three of ASUS' patented 92mm Wing-Blade fans force air over the thick aluminium fin array. ASUS, has been marketing the '105% more air pressure' point for the Wing-Blade fans since their introduction. That '105%' figure should certainly be taken with a grain of salt but the cambered aerofoil structure on the blades' outer edges will indeed increase the pressure of air interacting with it.
Longevity is clearly a focus for the fan design, and so it should be for a graphics card costing the best part of a grand. The fans are IP5X-certified for dust-resistance and their 0dB operating mode reduces fatigue on the mechanical bearing. That last point also helps to reduce noise output when the GPU is operating under lower levels of load, as the fans don't start spinning until a 55°C core temperature is reached. The fans stay active below 55°C during cool down, which is a good move by ASUS.
Large is an understatement for ASUS' flagship beast. The graphics card measures in at around 30cm in length with a width of around 13cm (when installed). The sizeable dimensions don't stop there as the thickness of around 5.25cm makes this a 2.5-slot unit. Mini-ITX users may want to check their chassis before clicking the buy button, as a combination of the sheer length, 2.5-slot thickness, and wider-than-usual PCB make interference in SFF systems a strong possibility.
Weighing almost 1.3kg, this card is a perfect example for the uptake in strengthened PCIe x16 slots on modern motherboards. If you plan on shipping a system with this beast installed, I would advise caution. Thankfully, ASUS uses a custom PCB brace and a backplate which, combined with the mounting point for the heavy GPU cooler, should help to mitigate PCB sag.
An eye-catching backplate resides over the entirety of the rear PCB. This design choice, coupled with the RGB LED-capable ROG logo cut into the backplate, should tick the aesthetic box for many users.
A peek through the small gap between the backplate and PCB indicates that the metal piece is purely aesthetic. This is a little disappointing given the ability of the slab of metal to conduct heat away from power delivery components, such as the rear-mounted capacitors.
Juice is delivered via a pair of 8-pin PCIe power connectors (in addition to the PCIe slot), which provides additional headroom over the GTX 1080 Ti default 6-pin + 8-pin configuration. ASUS reverses the power connectors to make un-clipping the latches an easier task. They aren't recessed particularly far into the heatsink, either, which aids ease of installation and removal.
Two SLI fingers are found in their usual location. Both gold connectors will be used when linking a pair of cards together with a High-Bandwidth SLI bridge. Note that the additional width of the card's PCB will limit the possibility of using a different card in SLI. This is because the rigid HB SLI bridge is not flexible like the old ribbon cables and therefore partnering cards must be the same width.
Mounted at the front of the card's PCB, shrouded by the triple-fan cooler's trailing edge, are several headers. Two 4-pin PWM- and DC-capable fan headers form ASUS' FanConnect II system. These headers can be used to connect a pair of chassis fans and allow them to be controlled, using ASUS' OS-based software, based on the GPU temperature, not just the CPU (as is the case for most motherboard-based fan headers).
This is a very smart move on ASUS' part as it allows a user to set their chassis fans to ramp up while gaming, which is not always easy for PWM or DC-controlled fans that take readings from a CPU that is likely to be running significantly cooler than the GPU. In my own personal system, for example, my pair of graphics cards struggle to stay below 85°C while the overclocked CPU is happily running at around 50°C and therefore limiting how far the chassis fan speeds increase. A GPU-driven fan speed curve would aid the hot-running cards even when the CPU is operating at a significantly lower temperature. GPU temperature-based fan control at the motherboard level is generally poor or impossible so ASUS has provided a smart solution.
There is a 4-pin AURA-capable RGB LED header positioned next to the fan connections. This allows the graphics card to be connected to compatible partnering hardware and controlled using a system-wide AURA sync profile.
What's the deal with those ugly, multi-coloured cables, ASUS? They have absolutely no place on a graphics card of this calibre and with this target audience. A minor point, perhaps, but everything is amplified when the consumer is stumping up £800 for a premium graphics card.
Despite Nvidia's exclusion of the DVI connector on its Founder's Edition GTX 1080 Ti, ASUS calls old-trusty back into action. I like this move as Dual-Link DVI is still an effective way to power 1600P or 1440P 60Hz monitors without having to deal with the DisplayPort issues introduced by Windows. With a cooler that dumps most of its air inside the chassis, rather than through the rear vent, that reduction in slot ventilation area won't be missed.
Filling out the display IO is a pair of 8K-capable DisplayPort connectors (that are 1.2 certified and 1.3/1.4 ready, according to Nvidia) and two 4K60-capable HDMI 2.0b ports. That doubling on the number of HDMI 2.0 ports is ASUS' way of making the company's graphics card more VR-friendly – you can simultaneously output to a VR headset and a high-resolution HDMI monitor or TV without the need for sometimes costly DisplayPort adapters.
Conversely, a reduction in the number of DP connectors may inconvenience some users with multi-monitor setups (I have personally required three DP connectors to power a 4K and a 5K monitor, for workstation usage, in the past).
Size differences between ASUS' overclocked ROG STRIX model and the Founder's Edition GTX 1080 Ti are clearly visible. ASUS' card is longer, wider, and thicker. While those metrics combine to form what should be improved cooling potential, they also reduce compatibility for SFF users and present some multi-GPU headaches (depending on motherboard slot spacing).
The side profile of ASUS' card also makes it clear that the 250W+ of thermal energy will be dumped inside one's chassis. That's fine if you have adequate case airflow but can present challenges in a mid-tower chassis if you combine a pair of cards in SLI.
Dual-card users will be tasked with running their case fans in a way that allows them to remove over 500W worth of warm air from a relatively small section of their chassis. That's not easy when the card's heatsink design means that air is being blown against a motherboard PCB or side panel window. This is different to blower-style cards, such as the Founder's Edition, which force most of their hot air through rear exhaust vents, at the expense of noise and overall cooling performance.
Other than the sheer size of the card, one of the first points that I noticed was the flimsiness of the plastic shroud on the side and near to the rear display outputs. Picking up the card by holding its shroud (a common procedure I perform for all graphics cards I work with) resulted in flexing of the relatively feeble plastic.
While the shroud's plastic did not feel as if it would break, it certainly didn't fill me with confidence for the build quality that I would expect from an £800 piece of hardware.
ASUS' RGB LED lighting is emitted from several areas on the graphics card. Whether your chassis is configured to view the graphics card from the top, side, or bottom, there is a good amount of LED lighting on show. Being AURA compatible, a variety of lighting colours and modes are supported, including synchronisation with other AURA components.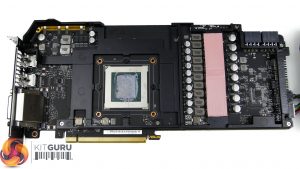 A die-cast plate is used to cover and cool the eleven GDDR5X memory chips and the power delivery MOSFETs. Incidental airflow is deemed sufficient for cooling the plate in areas relating to the memory chips. The MOSFETs get a thermal pad and direct contact from a proportion of the fin array to aid cooling, though contact with thin-walled fins is less useful than with a plate of metal.
An additional function for the die-cast plate is structural rigidity. Acting as a brace, it screws into the rear IO bracket as well as the backplate, through various points on the PCB, to better distribute mechanical load and minimise GPU sag.
ASUS' Auto-Extreme automated manufacturing technology is used for the ROG STRIX GTX 1080 Ti OC. The solder points are visibly 'smoother' and the PCB appears to be cleaner thanks to the use of robots in the production process.
The 10+2-phase Super Alloy Power II system, as ASUS brands its, encompasses the capacitors, chokes, and co-packaged MOSFET solutions. 'Super' marketing claims aside, the electronic components are touted to offer longer lifespans and improved temperature or efficiency performance. The concrete alloy chokes help to minimise coil whine, according to ASUS, though we did not notice any inductor buzzing on our Founder's Edition GTX 1080 Ti sample.
I am very pleased to see that ASUS has finally ditched the inefficient heatpipe direct touch design and has instead utilised a contact plate on top of the GPU. This is smart because the previous design meant that outer heatpipes on a five-pipe design were barely touching the GPU core. With this new 'MaxContact' copper plate, thermal energy can be removed from the GPU before being released in a controllable manner to the six heatpipes. ASUS suggests that its precision machining step reduces surface roughness of the copper plate, allowing it to make better contact with the GPU core.
ASUS' new 2.5-slot cooler uses a heatsink with 40% more surface area, compared to the previous 2-slot design. Six heatpipes are used to transfer thermal energy away from the copper baseplate, three of which wrap around into the fin array above the GPU core. Little tricks, such as extending the fin array either side of protruding capacitors, are deployed for ASUS to hit its 40% increase in surface area.