The tests were performed in a controlled air conditioned room with temperatures maintained at a constant 21c – a comfortable environment for the majority of people reading this. Idle temperatures were measured after sitting at the desktop for 30 minutes. Load measurements were acquired by playing Rise Of The Tomb Raider for 90 minutes and measuring the peak temperature. We also have included Furmark results, recording maximum temperatures throughout a 10 minute stress test. All fan settings were left on automatic.
As I mentioned in our Asus RX 480 Strix Gaming OC review a short while ago, these RX 480 reviews were delayed a little as we experienced some issues with the target temperature settings via AMD's WattMan. From time to time on specific reboots the target temperature would switch from 65c to 75c and then vice versa. Sapphire confirmed an issue has been flagged with AMD regarding this.
All our testing was done with both 4GB and 8GB cards running at the 75c target temperature setting. Sometimes this required multiple reboots, or a fresh driver install. Sapphire confirmed their Nitro+ OC cards should be tested with the target temperature at the 75c threshold.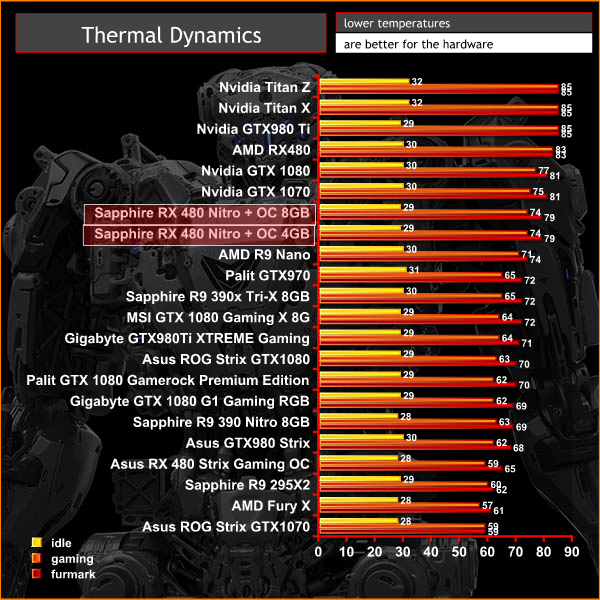 With the target temperature set at 75c, Furmark pushes the cooling system more than any game, and we recorded 79c from both cards. This is not 'real world', but we always include it, out of interest. When gaming, the profile worked fine and the temperatures held around 74c under extended gaming load.
We install the graphics card into the system and measure temperatures on the back of the PCB with our Fluke Visual IR Thermometer/Infrared Thermal Camera. This is a real world running environment playing Rise Of The Tomb Raider for extended periods of time.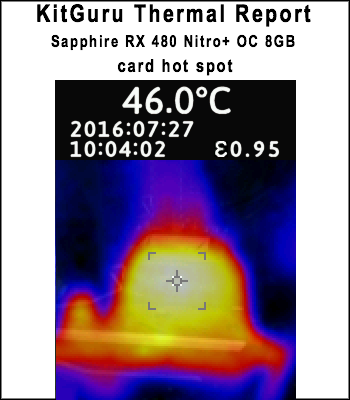 Both cards delivered close to the same results, within 1c and on the same board location. The backplate works well by spreading out the hotspots across the full length of the PCB.