We reviewed the Asus RX 480 Strix Gaming OC Aura earlier this week (HERE) and I am impressed with their solution, even though I feel that at £289.99 inc vat it is a little expensive – it is after all encroaching into the same price point as many (faster) GTX 1060 partner solutions.
Today our focus turns to Sapphire, with their RX 480 Nitro+ OC 4GB and 8GB custom cards. These are very competitively priced at £199.99 for the 4GB version (available HERE) and £249.95 for the 8GB version (available HERE).
The 4GB version is not only equipped with half the amount of GDDR5 memory, but both core and memory speeds are slower too. In the real world, it does feel slower, even at lower resolutions, although by manually overclocking both core and memory, you can get close to reference 8GB performance levels – while saving £50 in the process.

Its worth pointing out that many people simply cannot justify spending more than £200 on a graphics card and I think the Sapphire RX 480 Nitro+ OC 4GB is one of the finest, high quality graphics cards available at this price point.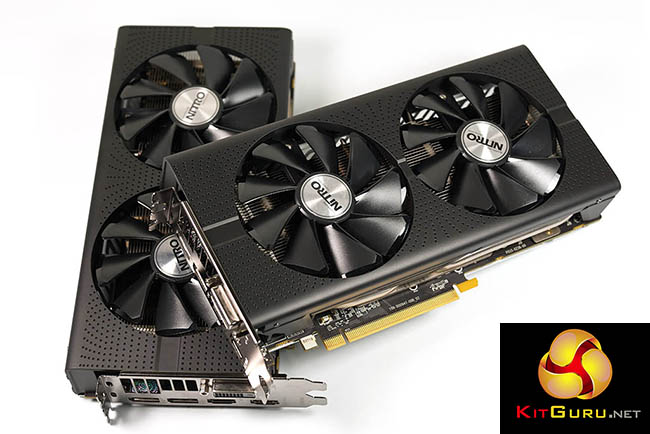 If you have another £50 to spend then the Sapphire RX 480 Nitro+ OC 8GB delivers better frame rates and we managed to get it stable to 1,390mhz in AMD's Wattman. As I detailed earlier in the review I don't feel Wattman is a great software package. Voltage increases didn't seem to work on the Sapphire cards either so I am confident that when Sapphire release TriXX 3.0 better results will be possible.
We had to deal with another little glitch, also mentioned in our review of the Asus RX480 earlier this week. Target temperature settings would switch on start up from 65c to 75c, and then vice versa. Sapphire are aware of this issue and it has already been reported to AMD. We managed to test both cards at the correct setting of 75c and the fans are nonintrusive, with merely more than a faint whirr audible under load. In a similar fashion to leading cards from all the major manufacturers, the fans switch off at idle, and below a certain temperature threshold.
Right now the best RX 480 available is the Sapphire 8GB Nitro+ OC model. It is not only faster out of the box than the Asus RX 480 Strix OC model we reviewed earlier this week, but it is quieter and £40 less expensive. Below £250 makes more sense to me in today's highly competitive market.

You can buy the Sapphire RX 480 Nitro+ OC 4GB for £199.99 from Overclockers UK HERE. The 8GB version is £50 more expensive at £249.95, available from Overclockers UK HERE.
Discuss on our Facebook page, over HERE.
Pros:
quality backplate fitted to both cards.
two fan cooler is relatively quiet at the 75c target temperature setting.
LED lighting works well.
extra HDMI connector enhances VR support.
competitively priced at £199 (4GB) and £249 (8GB).
fans disable at lower temperatures.
excellent build quality.
Cons:
the lack of TriXX 3.0 software tool at this point is disappointing.
Kitguru says: Both 4GB and 8GB Sapphire RX 480 Nitro+ OC cards are the best available today at their respective price points. The build quality of the cards is exceptional.