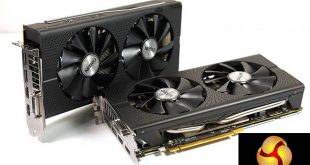 We supplement our analysis of AMD partner RX 480 cards today by looking at the two Sapphire Nitro+ OC models, in 4GB and 8GB capacities. The Sapphire cards ship with custom cooling solutions, out of the box clock enhancements, LED lighting and PCB improvements. At price points of £199.99 and £249.95 inc vat for the 4GB and 8GB cards respectively, they certainly look to be competitively priced.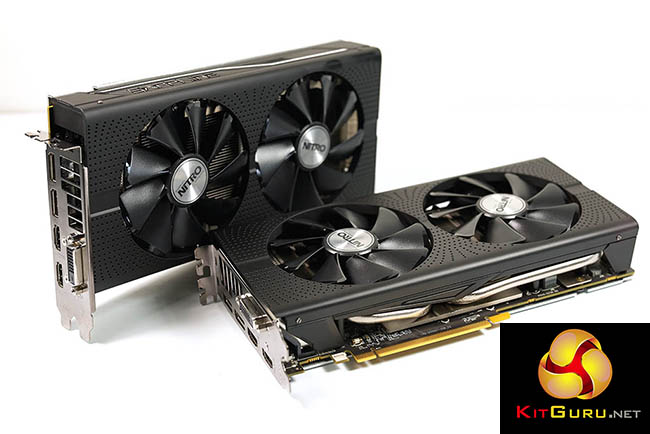 The new AMD Radeon RX 480 is built on the FinFET 14nm process. For Polaris, AMD selected Samsung and Global Foundries 14nm FinFET based process technology, the densest foundry process available. FinFET transistors are crucial to reduce power consumption while enabling operating voltages which are 150mV lower than the previous generation.
GPU
Radeon R9 290X
Radeon R9 390
Radeon R9 390X
Radeon R9 Fury
Radeon R9
Fury X
Radeon RX 480
Shader Units
2816
2560
2816
3584
4096
2304
ROPs
64
64
64
64
64
32
Graphics Processor
Hawaii
Hawaii
Hawaii
Fiji
Fiji
Ellesmere
Transistors
6200M
6200M
6200M
8900M
8900M
5700M
Memory Size
4GB
8GB
8GB
4GB
4GB
4GB/8GB
Memory Bus Width
512 bit
512 bit
512 bit
4096 bit
4096 bit
256 bit
Core Clock
1000 mhz
1000 mhz
1050 mhz
1000 mhz
1000 mhz
up to 1266mhz
Memory Clock
1250mhz
1500mhz
1500mhz
500mhz
500mhz
2000mhz
We can't really comprehend how Sapphire ended up with 1,306mhz and 1,342mhz for the core clocks of the 4GB and 8GB cards respectively, they must have been throwing darts at a board. Memory speeds of the GDDR5 on the 4GB model are clocked down, from 2,000 mhz (8Gbps effective) to 1,750 mhz (7 Gbps effective). The 4GB version ships with Hynix GDDR5 memory, the 8GB version Samsung GDDR5 memory.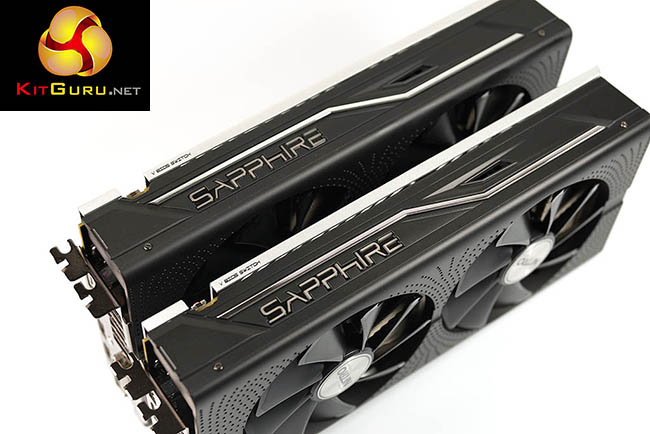 Additionally the cards have a dual BIOS with 'quiet' or 'boost' mode.
Quiet mode downclocks the core on both cards to 1,266mhz, further reducing fan noise. We test both cards today in the fully fledged, fast mode, as we do with all the samples we receive. I believe that the overwhelming majority of KitGuru readers will want to game with the card running at full speed.
The product pages for the new Sapphire cards:
Sapphire RX 480 Nitro + OC 8GB HERE
Sapphire RX 480 Nitro + OC 4GB HERE