We wanted to use the latest version of Sapphire's TriXX V3.0 to overclock both RX 480 cards, but it wasn't quite ready in time for this review. We therefore had to rely on AMD's WattMan, which I can't say is one of my favourite pieces of software. It seems rather badly put together and almost as if a student created the interface in a few days. The memory section doesn't need seven states to be displayed for instance, as 'N/A' shows on six on them – its clearly just a designer copying and pasting the GPU core section from the left. Its shoddy work all round.
I also am not confident that voltage increases in WattMan are actually making any difference to these Sapphire cards as I didn't notice any power consumption increases when measuring at the same clock speeds.

It is worth reiterating that there is a reason why I wanted to use Sapphire TriXX V3.0 software today. When I reviewed the Asus RX 480 Strix Gaming OC Aura I found that using Asus own GPU Tweak software delivered better results than AMD's Wattman, so I would be curious to see gains using Sapphire's tweaked software package.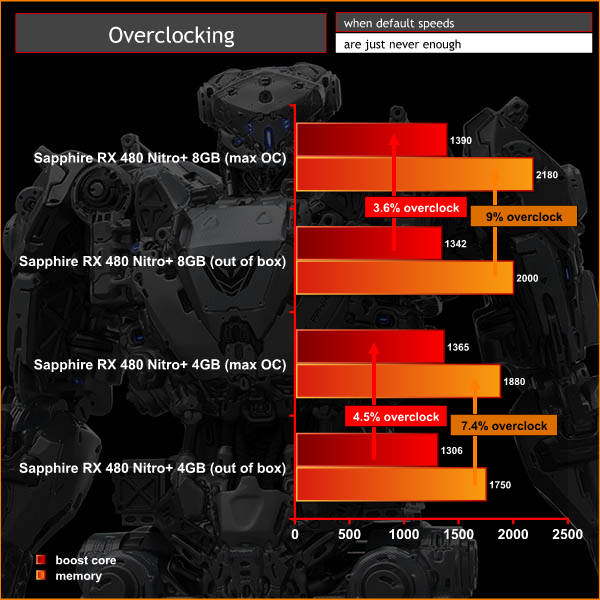 Using AMD Wattman I was able to get the 4GB card core to 1,365mhz and the 8GB core to 1,390mhz. The settings I used are above. I find more success by entering in direct clock speeds for the last two states, rather than increasing the overall curve.
Noise levels are noticeably increased at these settings, and I just pushed the fan speeds to the limit to ensure complete stability. Those gaming with a headset are likely to just overclock when wanting to push a few more frames per second in particularly demanding engines.