It has been three weeks now since AMD launched the RX 5600 XT, and today we have focused on MSI's high-end RX 5600 XT Gaming X.
There's a lot this card does well. First of all, I have to say it is one of the best-looking graphics cards I have seen in recent years. This is obviously subjective, but for me the contrast of the plastic and metal on the shroud, the red accents around the fans, plus the full-length backplate, all make for thing of real beauty.
The beauty isn't only skin-deep, too, as MSI's cooler is the best of all the 5600 XT cards we have seen so far. Edge temperature didn't even hit 60C when manually overclocked, and memory temperature also stayed under 70C out of the box. This is achieved with the fans spinning at barely 1000rpm under load, so the Gaming X is fantastically quiet.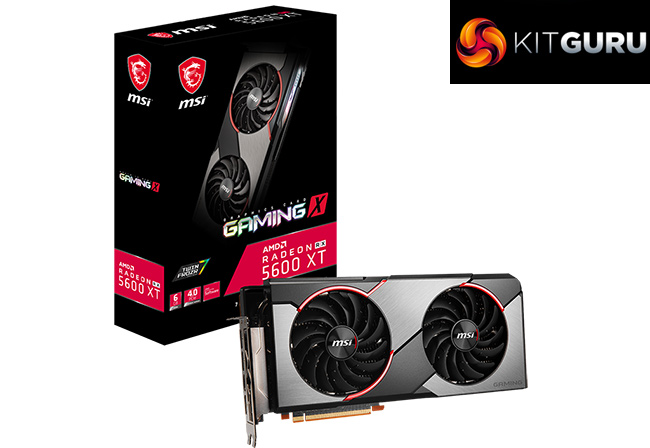 Unfortunately, there is a catch – and it's quite significant. Despite AMD announcing its board partners can ship their 5600 XT models with 14Gbps memory – instead of 12Gbps per the official reference spec – MSI has chosen not to do so. This is because, according to the company, they cannot guarantee 14Gbps will work on all of the Gaming X cards. MSI told me they don't even want to have a '1% chance' that a card could be faulty with the higher memory speed, so they took the decision to leave memory speeds at 12Gbps.
Of course, I understand the decision and it's a good thing that MSI wants its customers to have a product it can guarantee works 100% out of the box. The downside, however, is that the Gaming X runs on average 6% slower than the Sapphire Pulse which does run with 14Gbps memory. Compared to the Pulse before it received the BIOS update, the Gaming X is 4% faster on average thanks to its increased GPU frequency.
This really does put the card in a very tricky spot. Not only is it slower than the Sapphire Pulse, it is also £60 more expensive – the Pulse retails for £269.99 at the time of writing, while the Gaming X is listed at £329.99.
Ultimately, I think that makes the conclusion of this review very straightforward. I think AMD deserves some flack for the BIOS situation as that has obviously complicated things for MSI, but when your graphics card is both slower and more expensive than a competitor's card, it becomes very hard to justify. Yes, MSI's card does run very cool and very quiet, but it's not the like the Pulse is a hot or loud-running card – at the end of the day, it's faster and cheaper, so that really is enough to opt for the Pulse instead.
If you do want to buy the MSI Gaming X, we found it for £329.99 at CCL HERE. MSI has also told us it will be launching a Gaming Z model, that will run with 14Gbps memory out of the box, but we don't yet have further details on that.
Discuss on our Facebook page HERE.
Pros
Looks great.
Runs very cool under load.
Two large fans spin very slowly, resulting in low noise levels.
Cons
6% slower on average than the Sapphire Pulse 5600 XT.
Also £60 more expensive than the Pulse.
KitGuru says: MSI's RX 5600 XT Gaming X is a beautiful card that runs incredibly cool under load. it just makes little sense to pay more money for a slower graphics card.