The ASUS RX 6600 Dual ships in a dark box, with a photo of the card visible on the front. On the back, ASUS has highlighted various key features of the card.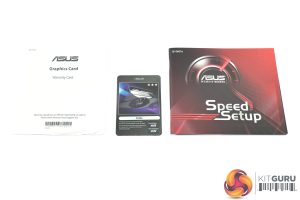 The only included accessories are a quick start guide, warranty card and a small card describing the Dual.
Looking at the graphics card itself, ASUS has gone for a fairly understated design here. The shroud is made from matte black plastic, though it does feature a brushed effect finish. There's also one silver accent on the front of the shroud, but other than that it is entirely black.
We can also note the two Axial-tech fans, each measuring in at 100mm across. Combine that with the heatsink, utilising three heatpipes, and we'd say this cooler will be more than a match for the 132W TDP of the RX 6600.
In terms of its size, it's not a massive graphics card by any means. We don't have official dimensions at the time of writing, but my measurements put the card at approximately 243 x 132 x 48mm, so it's a bit thicker than a standard dual-slot card and is also taller than the PCIe bracket. By modern standards though, it's relatively compact. It also weighs in at 721g on my scales.
Over on the front edge of the shroud we can note the ASUS and Radeon logos, while a metal backplate is also visible once we turn the card over. It's entirely black apart from the silver ASUS logo, while there's a cut-out behind the GPU die.
AMD told us that a single 8-pin power connector will be standard for the RX 6600, and that is what we have here. There's also 1x HDMI 2.1 and 3x DisplayPort 1.4 video outputs on offer.