As for the Gigabyte RX 6600 Eagle, this ships in a dark box with Gigabyte's robotic eye logo dominating the front. On the back, we can note several key features of the card's design.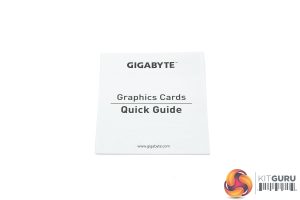 The only included accessory is a brief quick start guide.
Looking at the graphics card itself, it will be a familiar design to many as we have already reviewed a handful of Gigabyte Eagle models this generation. It's a dark grey colour, using a plastic shroud, but with a translucent section towards the end of the shroud through which the Eagle logo can be seen.
Gigabyte is sticking with a triple-fan design for its RX 6600 offering, though these fans are smaller at 80mm across. As always with a Gigabyte graphics card, the central fan spins in reverse relative to the outer two which should reduce turbulence and thus increase airflow pressure down onto the heatsink.
Compared to the ASUS Dual, the Eagle is both thinner and longer. It measures 282 x113 x 41 mm, so while it's just about a dual-slot thickness, it is fairly lengthy for a GPU of this calibre. It weighed in at 659g on my scales.
Over on the front edge of the shroud, both the Radeon and Gigabyte logos are printed in white. We can also note a blue Eagle logo on the backplate, though do note the backplate itself is made from textured plastic, rather than metal, something I do find a bit disappointing.
The Eagle is using a single 8-pin PCIe power connector, though the card shakes things up slightly with the display outputs – there's 2x HDMI 2.1 and 2x DisplayPort 1.4 connectors.