Today we have stepped back in time to the end of 2019, which saw the release of both the Nvidia GTX 1650 Super as well as AMD's RX 5500 XT. It may not sound like that long ago, but a lot has happened in the intervening months and we thought it was well worth revisiting these GPUs.
Aimed squarely at 1080p gamers, our testing shows that any of these three GPUs is doing to do the business at that resolution – provided you are sensible with your settings. We tested most of our games with High image quality settings, and averaged over 14 games, all three GPUs report average frame rates above 70FPS.
In fact, 4GB 5500 XT and GTX 1650 Super are neck and neck, as both produced exactly the same 74FPS average performance figure. The 8GB 5500 XT was able to pull 5% ahead of those GPUs however, giving it a slender lead.
While those average figures certainly suggest very similar performance between all three cards – and that is true – we can get a more nuanced picture by taking things on a game-by-game basis.
Starting with the 4GB vs 8GB VRAM debate, across the 14 games we tested, only four saw the 8GB 5500 XT outperform its 4GB sibling by more than 5% – enough to indicate memory limitations were at play. That's not a lot, but in three of those games – Death Stranding, Ghost Recon Breakpoint, and Shadow of the Tomb Raider – the difference was at least 13%, indicating a sizeable chunk of lost performance by opting for the 4GB model.
Bear in mind, our testing was done without focusing on Ultra settings, so we are now seeing some modern titles utilise over 4GB memory, even without the eye candy cranked up to the max.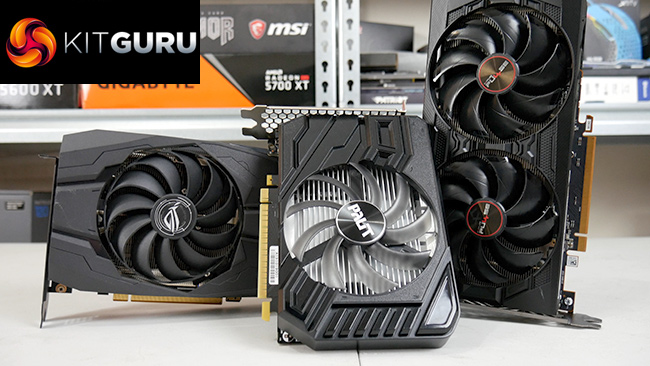 However, there were a few occasions, in games where we can be confident that having over 4GB memory is beneficial, where Nvidia's 1650 Super managed to perform reasonably well. Take Ghost Recon Breakpoint; here the 4GB 5500 XT absolutely tanked compared to its 8GB brother, falling almost 30% behind at 1080p. And yet, the 1650 Super was only 7% behind the 8GB 5500 XT. It certainly seems that, where memory limited, the Turing architecture can cope much better than the Navi architecture, at least based on what we have observed today.
A word on the specific models we have tested, too. We've already reviewed Sapphire's Pulse 5500 XT 4GB, but it remains an impressive card with very low noise levels and solid temperatures. The ASUS ROG RX 5500 XT Strix 8GB, however, is a step ahead, with even lower temperatures – we saw edge temperature peak at just 58C, making this easily one of the coolest-running cards we have tested. Lastly, Palit's GTX 1650 Super StormX OC may be a little loud, but it is also very compact which is sure to appeal to the HTPC crowd.
Overall then, if you're choosing between these GPUs, pragmatically speaking any of these three is going to do a decent job for your 1080p gaming needs. I would be most comfortable recommending the 8GB 5500 XT as it is slightly faster than the other two, while also having a more future-proof VRAM capacity… but pricing doesn't help its cause, as this particular ASUS ROG model can go for as much as £250(!), while the 8GB Pulse is currently £210.
As a straight shootout between GTX 1650 Super and RX 5500 XT 4GB, I think Nvidia just edges it. This Palit card costs £159, when 5500 XT starts at £170 on Overclockers UK. Additionally, Nvidia's GPU does seem to perform better in memory limited situations. Balanced against that, there are a number of games where the 5500 XT isn't memory limited and can beat the 1650 Super, but based on our testing the 1650 Super is never more than 6% slower at 1080p, so we feel it does just enough to get the nod for 1080p gaming.
Discuss on our Facebook page HERE.

The Sapphire RX 5500 XT Pulse 4GB is available from Overclockers UK  for £179.99 HERE.
The ASUS ROG RX 5500 XT Strix 8GB is available from Amazon for £249.98 HERE.
The Palit GTX 1650 Super StormX OC is available from Overclockers UK  for £158.99 HERE.
KitGuru says: It's been fun to revisit these three GPUs and see how the land lies in 2020. Let us know if you'd like us to retest any other older GPUs and see how they stack up today.