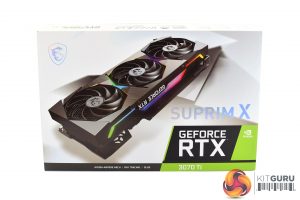 Our final AIB card is MSI's RTX 3070 Ti Suprim X. This ships in a white box, with a large image of the card itself visible on the front, alongside the Suprim X branding.
A wealth of accessories are included. Most of these are small quick start guides and other assorted documents, but MSI also included a mousepad and a GPU support holder to prevent any unwanted GPU sag.
Looking at the card itself, you can certainly see some familiar design elements that have carried over from the Gaming X Trio line. The shroud is now made of a combination of metal and plastic however, with the metal plates have a subtle gold hue to them.
MSI has also equipped the Suprim X with three 100mm fans,  with a total of 10 swept fan blades per fan.
There's no getting around the fact that this is a big card, too, as it measures in at 335 x 140 x 61 mm. That means it's a proper triple-slot card, while it also weighs in just shy of 1.8KG.
Looking at the backplate, this is a full-length metal design. It also sports a lovely two-tone finish as a result of the metal being brushed in different directions. It's certainly very easy on the eye, while we can also note several small cut-outs towards the end of the card.
MSI includes dual-BIOS on the Suprim X, too, with the switch positioned towards the I/O bracket. There is a choice of the Gaming or Silent BIOS, though both share the same same power limit and clock speed, the only difference is the default fan speed.
Despite increasing power limit to 310W (20W above reference spec), the Suprim X remains with 2x 8-pin power connectors, while we can also note 3x DisplayPort 1.4a and 1x HDMI 2.1 connectors.
Looking now at the PCB, it would appear MSI is using a beefed-up version of the PCB we saw with the RTX 3070 Gaming X Trio last year. That means we have an 11-phase VRM for the the GPU and a 2-phase VRM for the memory. The former uses Alpha & Omega AOZ5332QI MOSFETs, while the latter uses Niko Semi PK616BA and PK698SA high and low-side MOSFETs.
The memory VRM is controlled by OnSemi's NCP81610, while the memory is controlled by the UPI uS5650Q.
The heatsink is comprised of two hefty finstacks, which are connected by 7x 6mm heatpipes. There is an eighth heatpipes visible, but this is reserved exclusively for memory cooling. The GPU contacts with a central baseplate, while the memory sits half on that same baseplate, and half on the aforementioned heatpipe. Secondary plates are used to cool the VRM.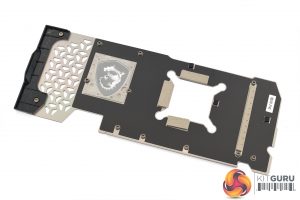 Lastly, we can see MSI's backplate makes contact with the back of the PCB, with thermal pads behind the memory and GPU VRM areas.