A week on from our review of Nvidia's RTX 3080 Ti, here we have assessed the new RTX 3070 Ti. Offering a fully-populated GA104 GPU, but with faster GDDR6X memory instead of the GDDR6 module found on the original RTX 3070, this new graphics card is targeting an MSRP of £529/$599, an increase of 13% compared to the UK MSRP of the RTX 3070.
I have to confess, I was hoping the switch to GDDR6X memory would've made a bigger difference. At best we saw an extra 10% for the RTX 3070 Ti over the RTX 3070, but on average at 1440p the 3070 Ti is 6% faster, and in some cases it offers as little as a 3% boost to frame rates.
That means the RX 6800 is still the faster GPU overall (in terms of rasterisation), with the RTX 3070 Ti coming in on average 5% slower at 1440p. There's still a sizable gap between this card and the RTX 3080 too, with the 3070 Ti proving 15% slower on average, though that does increase to 18% at 4K.
Speaking of 4K, the RTX 3070 Ti can certainly game at that resolution, but you're not always getting the smoothest of frame rates in demanding titles. Assassin's Creed Valhalla, Cyberpunk 2077 and Red Dead Redemption 2 all see average frame rates below 50FPS, though if you're playing lighter games like Hitman 3 and Resident Evil Village, a 60FPS experience is certainly possible. For me though, I think 1440p is still this card's strongest resolution, where 60FPS is guaranteed in even the most demanding titles – like Cyberpunk – at Ultra settings.
In terms of ray tracing, the RTX 3070 Ti also scales similarly against the RTX 3070, proving 5-8% faster in the likes of Cyberpunk 2077 and Metro Exodus Enhanced Edition with RT set to Ultra. We know Nvidia's ray tracing support is more mature than AMD's, so it's no surprise to see the 3070 Ti beating the RX 6800 by a whopping 65% in Cyberpunk, and then by 47% in Metro Enhanced, though Resident Evil Village cuts the advantage down to 11%. Either way, Ampere has a clear advantage over RDNA 2 when it comes to hardware ray tracing, and that hasn't changed with this launch.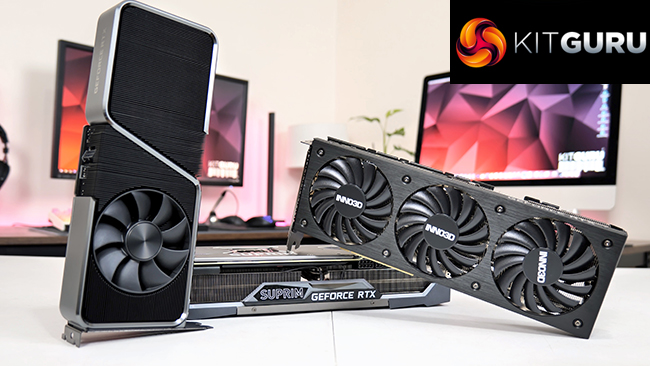 Our testing today wasn't limited to just the Founders Edition. We also assessed Inno3D's RTX 3070 Ti X3 and the MSI RTX 3070 Ti Suprim X. Both cards impressed me, albeit for different reasons. The X3 OC delivered a cool and quiet gaming experience, which is particularly impressive considering it's relatively diminutive dimensions – it's just a dual-slot thickness, but had no issues dealing with the 290W TGP of the RTX 3070 Ti.
Understandably, the MSI RTX 3070 Ti Suprim X proved the most efficient cooler, delivering noise-normalised thermal results that came in 15C cooler compared to the Founders Edition. It also offers dual-BIOS functionality, with the Silent BIOS spinning the fans at just 1300rpm, making it an effectively inaudible card.
We have also used our updated GPU power testing methodology in this review, so if you want to see power draw figures on a per-game and per-resolution basis, you can find that starting on page 31 of this review. What is clear though, is that the RTX 3070 Ti is a power-hungry GPU, drawing on average 27% more power than the RTX 3070 at 1440p, despite performance gains of 3-9%.
That means, by modern standards, the RTX 3070 Ti is really quite inefficient. It is miles behind the RTX 3070, and particularly the RX 6800 in this regard, with the latter card offering a whopping 33% more FPS per Watt at 1440p. The saving grace for Nvidia is that, right now, GPUs are in such high demand that no one is going to pass on getting one just because it draws more power – but even so, the efficiency levels really are quite poor.
We also had reasonable success overclocking our three GPUs, with performance gains of between 5-7%. The GDDR6X memory proved able to take another 1000MHz or so, bumping speeds to 21Gbps. The MSI Suprim X did the best however, as it was able to maintain a core frequency of over 2100MHz, which is particularly impressive for an Ampere GPU.
In summary, I think it is clear the RTX 3070 Ti isn't Nvidia's strongest release of this generation. It offers on average 6% better performance than the RTX 3070, but for a 13% price premium and 27% more power. If cards were available at MSRP, the RTX 3070 would be my strong recommendation as it's better value and significantly more efficient. A convincing argument can also be made for the RX 6800, which offers double the VRAM capacity and is the faster card, though it does depend on how strongly you prioritise ray tracing performance, while FidelityFX Super Resolution is also unproven against DLSS 2.0.
That said, it isn't a terrible release. It's clearly not nearly as alluring as the RTX 3070, but with prices and demand the way they are, it probably doesn't matter quite so much. I certainly wouldn't recommend paying much above the going rates for RTX 3070, or RX 6800 for that matter, but at the end of the day the RTX 3070 Ti will offer a good gaming experience and it's not awfully priced all things considered.
Nvidia provided us the following links for cards which should be available at MSRP, with retail availability from June 10th, 2PM BST: Palit GamingPro, Zotac Trinity, ASUS TUF Gaming, Gigabyte Eagle.
Discuss on our Facebook page HERE.
Nvidia RTX 3070 Ti Founders Edition
Pros:
Offers very solid 1440p gaming performance.
Smart Founders Edition styling.
Cool, quiet and compact.
Much improved memory temperatures compared to the RTX 3080 Ti model.
Cons
Significantly more power hungry than RTX 3070.
RX 6800 offers double the VRAM and a faster overall GPU, barring ray tracing.
Value isn't as competitive as RTX 3070 or RX 6800 (based on MSRP).
Score:
Inno3D RTX 3070 Ti X3 OC
Pros
Very solid build quality.
Impressive thermal performance considering it's 'only' dual-slot thickness.
Clean, minimalistic design.
Cons
Likely to carry a price premium.
No dual-BIOS.
Score:
MSI RTX 3070 Ti Suprim X
Pros
Excellent cooler.
Dual-BIOS.
Kept the GPU above 2100MHz when overclocked.
Slightly faster than the reference card out of the box.
Cons
Likely to carry a significant price premium.
Very large.
KitGuru says: RTX 3070 Ti is a capable GPU for 1440p and entry-level 4K gaming. It is significantly less efficient than the RTX 3070 however, while also offering worse value based on the MSRP. Then again… if you can find one for a decent price, it will get the job done.